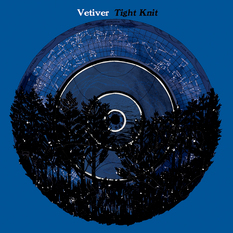 As a listener, and a fan, I buy into the world of Vetiver, or at least what I imagine the world of Vetiver to be – what I want it to be. It's a place filled with dusty vinyl, vintage amps, seasoned sweaters, stone-built Bay area fireplaces and a little bit of mystery. And personally, I prefer a little mystery in my music — the suspension of disbelief; something that is albeit harder to come by in the Internet-age (and, yes, I fully grasp the irony of writing this in a music blog).
In 2008 Andy Cabic and company released an LP and EP of late-sixties and early seventies covers, Thing of The Past and More of The Past, respectively, that deftly captured the underlying essence of, not only Vetiver, but everything I love about crate digger vintage folk, pop and rock. Sure, vinyl fetishists can wax all day long on the sound and warmth of the medium, but most will also admit that a big part of the experience are those weird, obscure and out-of-print finds that turn up at the most unexpected places (i.e. garage sales, thrift stores, your parent's basement). These finds in turn contain an air of mystery, sometimes revealing nothing other than their musical contents besides the dusty jacket, album artwork, tracklisting and possibly the previous owners old address labels half-glued to the cardboard sleeve. They're an open book.
This week Vetiver released Tight Knit, their Sub Pop debut, and fourth full-length LP. Not surprisingly Tight Knit takes cues from all those old LPs in Cabic's collection and, like his previous output, distills them into his own. Those who have kept up with Vetiver have seen the tasteful evolution from finger-picking folk (see the Golden Apples of The Sun comp) to a more fleshed out, dynamic, instrumentation. This continues on Tight Knit, balancing the soft spoken, Golden Coast, acoustic-based passages with worked up, slightly funky, jams that would not seem out of place on any number of the aforementioned '70s vinyl LPs you bump into when you least expect it. Like the best of Vetiver, this one burns slow, and rewards with time.
Download:
MP3: Vetiver :: Everyday
MP3: Vetiver :: Another Reason to Go
———