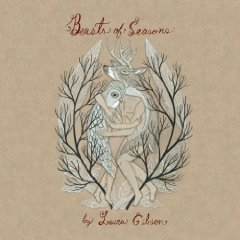 In the hyper-pace of the 21st century, it's a given that things at times feel disposable. We live in a culture that exudes and promotes quantity over quality, where "immediate" and "fair" are qualities that increasingly (and at times shockingly) trump "worth-the-wait" and "excellent." In spite of this, art still prevails, and at its best even drives one to slow down, take a breath, and actually appreciate. Laura Gibson may not have intentionally set out to do this, but on her new LP, Beasts of Seasons, she accomplishes just that.
Perhaps a nod to the days of the record flip, Beasts of Seasons is thematically divided into two separate pieces, Part 1: Communion Songs, and Part II: Funeral Songs. These mini-reflections on motif serve not only to provide a lyrical context, but also set the mood…drive the flow. While Gibson's vocals, often accompanied by acoustic fingerpicking, drive much of the album, the production at times gives way to lush strings, piano, ambient feedback and swelling percussion. Without giving too much away, I will say that this is very much a Sunday morning album embodying everything that they entail; quiet, coffee and solitude.
++ By no means her first rodeo, Gibson, who calls Portland home, has been gigging the Pacific northwest circuit for years and releases her recorded projects via local outfit HUSH Records. Look for her on tour with Damien Jurado this Spring.
Elsewhere: NPR is now streaming Beasts of Seasons in its entirety. / Daytrotter '07 Session

Download:
MP3: Laura Gibson :: Spirited
———–
Amazon: Laura Gibson – Beasts of Seasons
+ Download Laura Gibson via eMusic's 25 free MP3 no risk trial offer
——————————————————————————————————————————