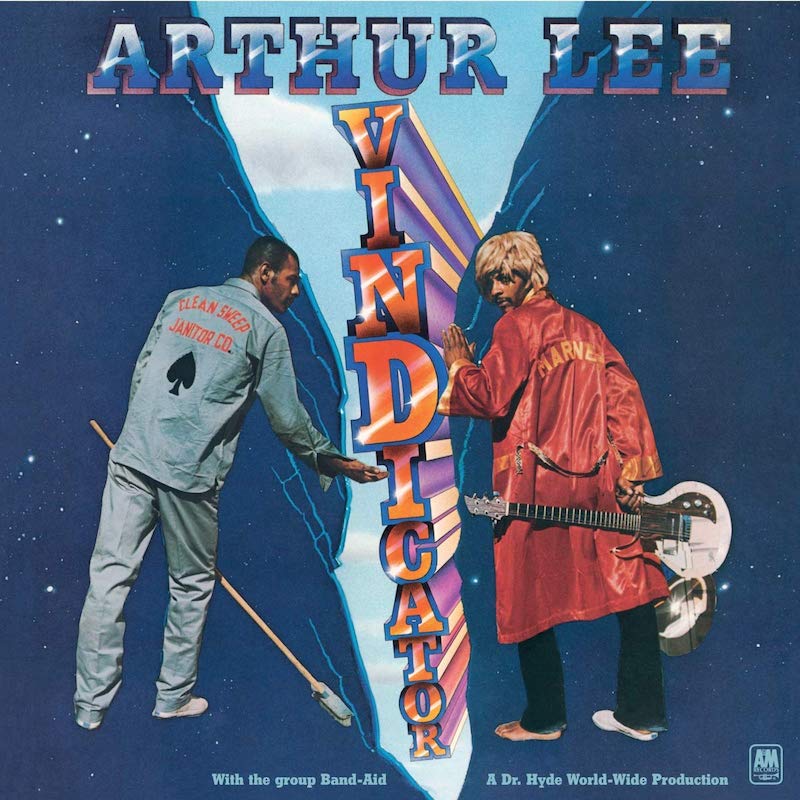 Late last year when we wrote about Arthur Lee's superb soul spin "Everybody's Gotta Live," we hadn't yet heard Vindicator, the track's 1972 mothership and Lee's solo debut. Admittedly, we (I) naively assumed that Vindicator would be a record full of similar songs–an exploration of Lee's R&B range that was largely neglected during his time in Love. We (I) were wrong.
It took us 17 tracks and roughly 51 minutes to find out that "Everybody's Gotta Live" is the exception, not the formula. Vindicator is, at turns, southern rock, blues, folk, psychedelic rock and, yes, R&B. Lyrically, it spans from blues ballad to the utterly (and intentionally) ridiculous. While so many solo records segue with few seams from an artist's ensemble career, Vindicator proves to be something of a non sequitur. That is, Love ends and Arthur Lee begins.
Granted, there are some shades of what Lee would become (or probably always was) on Love's grittier eponymous debut, shades that would be rubbed out gradually across De Capo and Forever Changes. Lee, famously, was somewhat controlling in Love, or he tried to be. But despite his better efforts, Bryan MacLean hedged Lee's influence on composition and harmony, and probably to the benefit of Love. That's not to say that Vindicator falls short, but only that it reveals what Love might not have been if Lee had his druthers. So, Vindicator is as much as album name as it is a statement for Lee, a practice in individuality, an exercise of personal salvation. Here, he does everything he ever wanted to do. Literally, everything.
The opening track, "Sad Song," is a return to his southern roots, where Lee does Skynyrd before Skynyrd did Skynyrd. A moderately paced rock piece formed around a call and response–Lee calling, his guitar responding–"Sad Song" might tempt you to believe this is what the album is about. Until the record skips over to the second song. "You Can Save Up to 50% But You're Still a Long Ways from Home" is a 17-second a cappella nursery rhyme that, after multiple listens, still struggles to find sense: "I pawned it / a black-white-yellow human / And if you don't like what I say / Then vote for Harry Truman." It's the kind of quirk you'd expect–if you were expecting such a thing–to find snugly fit into the later tracks, not just as you were getting warmed up. But it seems to work as an attention grabber. Bizarre as it may seem, you want to listen to it twice. And it informs that maybe you have no fucking clue what's about to happen. In fact, it's the same kind of subtle narcissistic kink as Lee's notably flamboyant wardrobe. "Look at me," it says.
And to his credit, he does settle down after that. His straightforward blues standard in "He Said She Said" (a likely nod to his Memphis nascency) is also one of the few rhythm and blues approximations found. While it hinges primarily on blues, it's justifiably, and pleasantly, both.
And that's sort of how it goes: normalcy is met with brief episodes of eccentricity. Because for every blues and rock sanity, we find a "Hamburger Breath Stinkfinger," the tale of an ill-advised date at McDonald's, where Lee laments about the woman, "Oh what a dish / She smelled just like a fish."
Throughout the wandering, Vindicator's common thread would be Lee's voice and his guitar. Consistent variations aside, both are reminiscent of Hendrix. Vocally, the best document of this is either "Busted Feet" or "You Want Change for Your Re-Run." The latter is the best effort on the record next to "Everybody," and arguably the best composed. Driving guitar is joined halfway through by a simple piano underpinning, arriving perfectly out of nowhere. The Hendrix influence isn't surprising. And not because Hendrix is "influential."
Friend's in the early-'60s L.A. scene, Hendrix played guitar behind Rosa Lee Brooks when she sang the Lee-written "My Diary." And Lee was known to frequent Isley Brothers shows, where Hendrix cut his teeth before "Hey Joe" forever wove him into the musical fabric. Lee even claims that it was Love's version of "Hey Joe," not Tim Rose's, that inspired the version we all know. Even Hendrix's later fashion sense offers a nod to the eccentric Lee, whose frills, tunics, scarves and hats were staples when Hendrix was still sporting a skinny tie as a backup. If that's not enough, Vindicator is credited, not to Arthur Lee, but Arthur Lee & Band-Aid. On the record, Band-Aid is a mostly anonymous group of musicians. But the name was originally conceived by Hendrix and Lee for a group they intended to form with Steve Winwood. Of course, that would never happen.
So instead, we have Vindicator. Not a tribute to Hendrix. Not an evolution of Love. It's Arthur Lee frantically and impressively trying to fit every ounce of his musical yearning into one record. Someone trying to prove his every potential in one fell swoop. Years of pent-up emotion and style are released, and with great effort. Most other times, such a product would be a disjointed mess. But here, it's a sincere piece of man. Punctuated with the exclamation, "I'm not Love," Vindicator succeeds in showing us who Lee is. "Look at me," it says. And maybe that's vindication enough. | j. crosby
For Heads, by heads. Aquarium Drunkard is powered by its patrons. Keep the servers humming and help us continue doing it by pledging your support via our Patreon page.