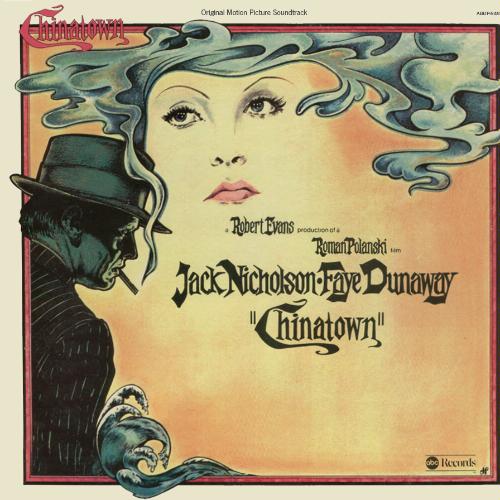 "Forget it, Jake. It's Chinatown."
Written by Robert Towne, directed by Roman Polanski and starring Jack Nicholson, Chinatown undoubtedly stands as one of the greatest films of the twentieth century. Classic film noir, on a base level, Chinatown tells the story of private detective J.J. 'Jake' Gittes as he attempts to solve what (at the onset) appears to be a rote case of adultery. This soon spirals into an enigma invoving murder, corruption and a high level conspiracy to divert water from Los Angeles's San Fernado Valley. And that is just casually skimming the film's surface. At it's core Chinatown is a meditation on moral corruption, greed, evil, opportunism, perversion, and the evil that men do. Like a great work of literature, Chinatown is truly a film that can, and should, be viewed multiple times as it routinely delivers with each additional examination.
As with every entry in AD's ongoing Soundtrack Enthusiast series, Chinatown's score plays an important role in setting the tone of the narrative — acting as another, albeit, unseen character. Set in the 1930s, composer Jerry Goldsmith's neo-noir score is both subtle and effective in providing the subconscious undercurrent of post WWI American expansion, enthusiasm, anxiety and ultimately dread. Goldsmith expertly captures the sad decadence and intimate loneliness of the world of Chinatown's Los Angeles. Why then is its soundtrack presently unavailable and out of print?
Further reading unearthed this surprising tidbit: Composer Phillip Lambro was originally hired to write the film's score, but it was rejected in the eleventh hour by producer Robert Evans, leaving Jerry Goldsmith only 10 days to write and record a new one (via). Impressive — under the gun and this is what he came up with — imagine if he'd had a month.
Side Notes: Chinatown is the final film Roman Polanski filmed in the U.S. prior to his fleeing the states for Europe in 1977. Interesting, because the film was originally to be the first of a planned trilogy, Jack Nicholson turned down all detective roles so that the only detective he played would be that of Jake Gittes.
Download:
MP3: Bunny Berigan :: I Can't Get Started
MP3: Jerry Goldsmith :: Love Theme From Chinatown (End Title)
———-
Amazon: Chinatown – OST (used/very expensive)
+ + + + + + + + + + + + + + +
Original 1974 Trailer – Chinatown
+ Download digital music via eMusic's 25 free MP3 no risk trial offer
——————————————————————————————————————————