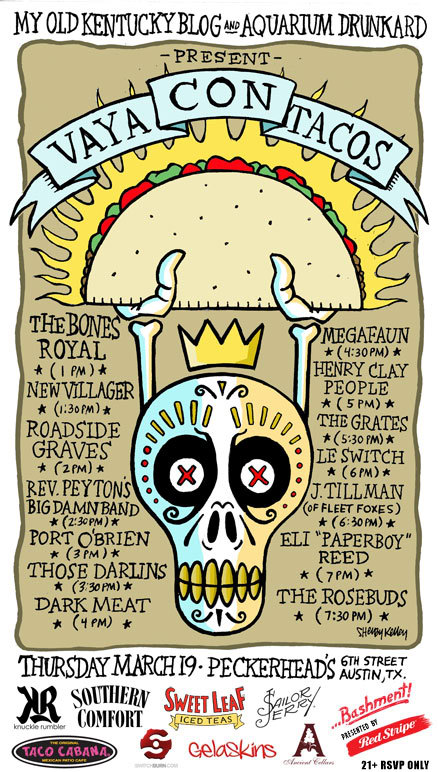 It's again that time of year: SXSW. In two weeks, hordes of artists, industry folks and fans alike will descend upon Austin for a non-stop marathon of music, friends, BBQ, beer, and yes, breakfast tacos.   Once again we'll be there in a variety of capacities.   This is the first AD announcement, of three, per our involvement with parties this year (stay tuned for the rest).
Aquarium Drunkard and My Old Kentucky Blog cordially invite you to the 1st annual ¡Vaya Con Tacos!, day-party Thursday March 19th at Peckerheads on Sixth Street.   The event is free, no badges/wristbands necessary, but you gotta be 21+ and need to RSVP to get in the door.
14 bands on two stages. Expect free Red Stripe, Sailor Jerrys Rum, Sweet Leaf Tea and a free Southern Comfort Happy Hour. We'll also have schwag from Geleskins and, of course, free breakfast tacos from Taco Cabana (while they last).   Lineup below.   See ya there.
1pm : The Bones Royal / 1:30pm : New Villager / 2pm : Roadside Graves / 2:30pm : Reverend Peyton's Big Damn Band / 3pm : Port O'Brien / 3:30pm : Those Darlins 4pm : Dark Meat / 4:30pm : Megafaun / 5pm : The Henry Clay People / 5:30pm : The Grates /   6pm : Le Switch / 6:30pm : J. Tillman / 7pm : Eli "Paperboy" Reed & The True Loves   / 7:30pm : The Rosebuds
RSVP HERE: ¡Vaya Con Tacos! :: SXSW: Thurs-Day Party, March 19th
+ Download SXSW artist's music via eMusic's 25 free MP3 no risk trial offer
——————————————————————————————————————————