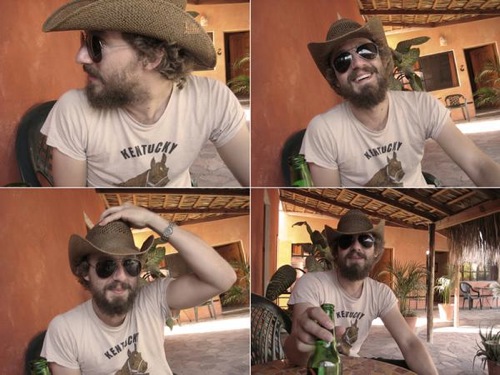 Country music, at its best, is a dark apologetic for mystery.   Like most things, it's got its glitzy side, the side that it's convinced itself that it wants the public to see.   But once its Nashville sheen is scraped off, country is a dark, penetrating, and mysterious force that cuts away until it reaches a person's core.   Country music, when it's good, is honest music.
Phosphorescent's To Willie — a slow-buzzed collection of eleven Willie Nelson covers — drags its lonely feet through these same fields.   Doubt, fear, addiction, love, faith — all make appearances across the record.   How appropriate, then, that Aquarium Drunkard caught up with Phosphorescent head (and Athens, GA native) Matthew Houck a few days after Houck caught doomsday songster Leonard Cohen's first American performance in fifteen years.
* * * * * * * * * * * * * * * * * * * * * * * * * * * * * * * * * * * * * * * * * * * * * * * * * * * * * * * * * * * * * * *
Aquarium Drunkard: So how was the Leonard Cohen show?
Matthew Houck:   It was amazing, actually.   Really, really good.
AD: I read the review on Pitchfork this morning; sounded like it was incredible.
MH: Did they write about it?
AD: Yeah, and they had pictures, too.
MH: Oh, cool.   I want to look at those.   It was something.   It was as good as I expected in some ways and in some ways it was a lot better.
AD: And these recent shows are his first live shows in fifteen years or something like that, right?
MH: Is that true?   I thought he'd been touring for a long time in Europe.   I might be wrong about that, but I gathered that it was a big deal that he was playing in New York and in America for the first time in a while, but that the reason that he hadn't been touring here was because he didn't think that there was as big an audience as there was in Europe, so he was just touring over there.
AD: I started listening to Willie Nelson around the time I was born.   My dad played his records constantly when I was a kid and still does, though I've come to appreciate him on my own.   How did you get into him?
'۬MH: Same way, I think.   My dad played it when I was growing up, so that was probably the initial way.   But he always just hung in there.
AD: I have all of these strange memories of Willie.   We always listened to "Pretty Paper" on Christmas Day, for instance, and now I don't feel like it's Christmas unless I hear that album.
MH: That's great.   I don't have any recurring kinds of things like that but I do have a very specific memory of hearing "My Heroes Have Always Been Cowboys" as a really, really young kid in the back seat of the car.   Absolutely.
AD: One of the strange things about Willie is the way that he's perceived.   I think for many people in their twenties, he's better-known for being a pothead than for the beautiful songs he's written, which I think is problematic.   It frustrates me when I say the words "Willie Nelson" and the first thing people think about is the film Half Baked.
'€¨MH: I wonder about that stuff.   I feel like surely many, many people — and obviously, with the response so far to this record, it seems like that might just be a pop culture caricature of him.   I think there's a pretty healthy appreciation for him and for his music.   Or maybe I'm just projecting. (laughs)
AD: How did you go about choosing the songs for To Willie?   Did you set out to make a record and cull through his hundreds of tracks, or did you have ten or twelve Willie songs you'd always wanted to do?
MH: I don't know that there was any culling involved; it was mostly a combination of those two things.   These particular songs have always been rattling around my head, some of them for as long as I've been listening to music.   They were my earliest musical memories, though some of them I heard later on.   But there were a handful of songs there that for years ended up being very important to me.   I kinda vaguely thought that I would record them, just because I wanted to.   I recorded "My Heroes Have Always Been Cowboys" on an EP a couple of years ago [2004's The Weight of Flight] and thought maybe I'd like to do more of that.   What happened, though, was that I saw the To Lefty, From Willie record, and it clicked that that was the perfect way to have a platform to do these songs.   And once we knew we needed about ten or eleven songs, it was pretty clear which ones we should do.
AD: The songs on this album feel as though they're very close to you.   I get the sense that you have gone through these things, that these songs have been important to you for a long time.
MH: That's the kind of songs they are, I think.   They're the kind of songs that don't just resonate for a particular period of your life — some songs will only stick with you for a year or something like that and afterwards they don't apply to you anymore — but with these songs, they meant one thing to me when I was younger and as I've grown and gone through exactly what some of these songs are talking about, they start to mean even more.     So yeah, if that comes through, that's a great thing, because that's definitely true.
AD: I think that's especially true on "Reasons to Quit."   I'd never heard the original when I heard yours, so maybe I've got a skewed perspective, but it seems to me like your version is more authentic than Willie and Merle's.   They seem like they don't really have any reasons to quit, whereas you guys sound weary from the start.
MH: (laughs) That's great to hear.   That was actually the last one that I taped for this album.   That was literally after coming off of basically a year of solid touring and, uh, a decent amount of substance abuse and it really resonated when I got home and took the time to reflect and tried to take it easy and make this record.
AD:   One of the things that most writers have commented on about To Willie is how well you've stamped these songs with your own sound while retaining the integrity of Willie's songwriting.   There's a nice balance here, because the album really does sound as much like you as it does like Willie.   Was that something that you were conscious about in the studio?
MH: No, actually, it was never really an issue.   I guess if you weren't really familiar with them then that may be an issue or something, but, honestly, we just recorded these songs in the same way that I would make a [traditional] Phosphorescent record, with the only difference being that I didn't write these songs.   That was really the only difference.   They're really strong songs, so they hold their own, and we just did them the way we do a normal Phosphorescent album.
AD: You're living in Brooklyn, which is not exactly known for its country music.   Were you worried about the way that the record would be received in New York?
MH: No.   I knew it was a good record and the way that those kinds of things go, I think that Phosphorescent has rarely been considered "hip" or something like that, so it never really concerned me.   (laughs)
AD: How do you like the music scene up there compared to Athens?
'۬MH: I really do like it up here.   To be honest, scenes and those things have never really meant that much to me.   It's always been about doing whatever needs to be done in terms of the music.   Brooklyn has a really supportive music scene and there are lots of great bands up here, so I'm sure that that stuff has an effect on all of this, but it's not really a comparable thing, you know?
AD: The thing about country music that I love, and that I think it does best, is that it gets at the question of unrest so well.   Country music has always explored the darker side of life with a stark honesty, and it's never really been afraid to admit its doubts.   What is it about the music that does that?
MH: Oh, that's a good question.   I don't know.   For whatever reason, it does have a certain…to me, it's got a real comforting quality, an indirect response to that unrest, you know? I don't know what that is, I really don't know.   But I agree with you, for sure.   words/ m. garner  

Download:
MP3: Phosphorescent :: Reasons To Quit
————
Amazon: Phosphorescent – To Willie
+ Download Phosphorescent via eMusic's 25 free MP3 no risk trial offer
——————————————————————————————————————————