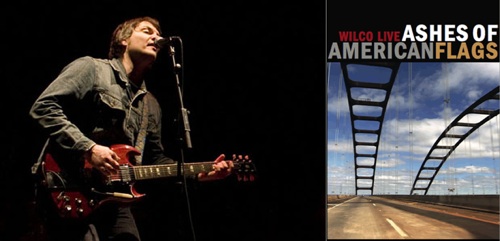 I've witnessed many a Wilco show over the years, but spare for a few moments, was not particularly impressed by the two-disc, 2005 live document, Kicking Television.   I felt that it found the band in the midst of performance growing pains just prior to finding their footing again.
Ashes of American Flags, on the other hand, feels like the complete opposite.   Filmed during the band's 2008 jaunt performing at various small-midsize venues throughout the U.S. (e.g. Tipitinas in New Orleans, Cain's Ballroom in Tulsa, the Ryman in Nashville) Ashes documents the band at, arguably, the height of their collective powers.   This, Wilco 4.0 or so, is a group that has now been an intact writing/recording/performing unit for the better part of three years.   And, believe me, it shows. Fingers crossed for an accompanying soundtrack.
Directed by Brendan Canty and Christoph Green (of Burn To Shine notoriety) the film excels at not only capturing the nuances of Wilco, but uncovering the subtext of a changing America, both on a conscious and subconscious level.   Explicitly you have interview snippets with the band's principles, now on the other side of forty, commenting on, and at times lamenting, the erasure of the old America.   In two poignant scenes, Louisiana native, bassist John Stirratt, and multi-instrumentalist, and Mississippian, Pat Sansone separately wax on the countries changing landscape. Stirratt is amazed at the corporatization of his home state. Sansone, himself a vintage photography enthusiast, when asked why he   shoots old Southern regional identifiers, states that as Polaroid has discontinued its film stock he prefers to capture a fading American aesthetic with fading technology.
Visually Canty and Green use   the rural backdrop of these fading, abandoned, downtowns and old stretches of highway (what can only be described as Americana), and juxtapose them in sharp contrast to the increasingly homogeneous, sprawling and parasitic expanse of the strip malls and Wal-marts that have quickly devoured American regionalism.   Ashes of American flags, indeed.
With a new Wilco album out this Spring, Ashes is an interesting follow-up to 2003's I Am Trying To Break Your Heart   — clearly contrasts two very different bands in very different places.   Pre-order available April 18th via Nonesuch/Wilco.

Pre-order: Wilco – Ashes of American Flags
* * * * * * * * * * * * * * * * * * * * * * * * * * * * * * * * * * * * * * * * * * * * * * * * * * * * * * * * * * * * * *
Wilco :: Ashes of American Flags – DVD Trailer
+ Download digital music via eMusic's 25 free MP3 no risk trial offer
—————————————————————————————————————————–