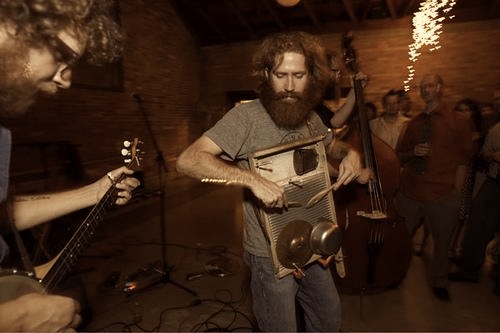 Hearing Megafaun on record is one thing; seeing them live is another. Brad Cook, Phil Cook and Joe Westerlund whip up some of the most intriguing music nightly on stage that you could ask for in a live performance. They'll be playing plenty at SXSW including Thursday at AD and MOKB's Vaya Con Tacos! party. The boys in the band sat down with Aquarium Drunkard last month to talk about their newly finished LP (due later this year on Home Tapes), the wide variety of bands they've toured with and how going to jazz camp as a teen made it a little harder to relate to other musicians in the "indie" world.
Aquarium Drunkard: You just finished up your new LP. Who did you work with and how did the process go?
Phil Cook: Well, we didn't know what we were doing at all on the first one. The first record contains the first thing we tried to do, which I can hear when I listen to it, all the way up to the last thing we did, which I can tell we knew what we were doing more. It was nice to start this record at that further point since we were recording it ourselves. And it already sounds more sonically sophisticated to us, in its onset. We started from a better place.
Brad Cook: But we did it ourselves.
PC: We recorded everything ourselves. This time we borrowed nicer microphones to do vocals and drums. So we upgraded, maybe, two notches with the gear we had…
BC: ..and special guests.
PC: Oh, and special guests. Joe, would you like to talk about our special guests?
Joe Westerlund: We asked a lot of friends to make appearances on the record and we have a violinist that is a friend of ours, that we stay with every time we're in Boston, that is in a band that, during our formative years, in high school, when we started feeling as serious about music as you can at that age, was in this band from Minneapolis that we were idolizing and trying to play with. So that's come full circle. She's on the record..
AD: What was the band?
JW: Bobby Llama. You may have heard of them. My brother is on the record, he's a percussionist. We have a number of vocalists. Krissy Smith who is in Tender Fruit from here. Heather McEntire of Bellafea, Ivan from the Rosebuds. Kyle who was in our high school band..
PC: Who hasn't played trombone in over 5 years! And we asked him to play. So he took it out, warmed up..[laughs]..like the first time he's touched it in 5 years and, literally, 5 to 10 minutes later he was recording. [laughs] We had such a ball doing it.
BC: He thought we were joking, but we weren't. And it's a very serious contribution to the record. And then we also had a ton of Durham people. Both of these guys' [Phil and Joe] wives and fiancés and the guys from Trekkie records and Midtown Dickens, like all these Durham cats sang on one song. This album we definitely invited more voices in.
PC: And voices that are representative of the community we are ever growing more and more a part of the longer we live here. We moved here in 2005. Our first record, all the people who are on the record now, we didn't know those people when we got done with the first record. But since then, through touring and meeting people and connecting, now it feels like we're a part of this community and we can ask people to do things and they can ask us to do things and it feels like this shared community thing. So that's reflected in the new album.
AD: Chris Stamey actually mixed the new album, correct?
Continue Reading After The Jump….
BC: We were mixing and doing all these things ourselves. We spent probably 40 or 50 hours a week on top of full-time jobs doing all this. And it got to the point where we spent 96 hours in 9 days trying to finish this album. And Ivan [Howard] and Logan from Roman Candle, who were also on this Rosebuds tour, told us 'You guys should really call Chris Stamey and get him to listen to things.' And we decided we needed a break, so we sent it to Chris and we got one of the songs back it was like night and day. You know, if I'd thought we were turning our mixed album into the label about 90% done, when we heard what Chris did, it made it seem like 40%. What I think is so remarkable is I think this album is really different from stuff he's done, but his honoring our vision is something that is so unspoken and beautiful. We've never done that before – handed our music to someone and been like 'how do you hear it?' And the weirdest part was that we get it back and he hears it exactly like we do only…better.
JW: And he's adding stuff or doing stuff that we never would've thought to do or even been bold enough to do. We would've been scared to try.
BC: He'll pull an instrument out or take one down that we didn't expect. We gave him the raw tracks – so this one track was banjo centered and all that. He ends up pulling out the acoustic guitar part and it was such a background part, but when we listen to it, it makes total sense. It's like, everything he did, why didn't we think of that? It's so obvious. It blew our minds.
BC: So this is very exciting – this is the most professional thing we've done as a band. [laughs] Hire someone who has a career and credibility doing something to help us out. [laughs] I think it took us from a point of being burned out to feeling revitalized. We spent a lot of time making this record. We felt the last album was really searching and reactionary and all these process that established where we were going to go. We probably look at each album as more of that – whittling away. I don't know if we'll ever really find our sound, but it felt like this has been an awesome finish to a great growth spurt for our band.
AD: You said you're feeling more and more a part of the community here. How do you feel Megafaun fits into the North Carolina music scene? How have you felt more connected?
BC: I think one of our strengths is, as much as we love music, that we're really intense people-people. We love meeting people and asking them questions. For our band, we play a type of music that is very environmental based, so we'll play a show that is more sit-down or more serious or more wild. We did a tour with a German minimalist composer who we really look up to and are really inspired by. Then we'll do a tour with the Rosebuds. I think for us, our role here is more like we really like meeting and playing with people and a lot of bands look at us more as musicians and guys who are easy to get to know and work with and relate to. We're kind of a glue between various scenes. We play in Durham a lot, in Chapel Hill, in Raleigh. We're connected to a lot of different bands – from Midtown Dickens to the Rosebuds to the Prayers & Tears of Arthur Digby Sellers to some of the avant-garde stuff. We've done some of the improvised shows in North Carolina. I kind of see us as a band people can like hang with more than anything and engage with. That'd be my assessment.
AD: You talked about the various people you've toured with. When I talked with Ivan the other week, I said I don't know if the Rosebuds and Megafaun were two bands I would've thought of seeing together and I asked how you were as touring partners and he raved about y'all, the way you got the crowd going every night. What bands have you had a lot of success with in touring?
PC: It just really comes down to how we interact. When we're caravaning to a place and we get out at a gas station and we all lollygag for a half hour because we're performing some silly skit off the side of the gas station and we just take too long and I realize when we get back in the car, 'Wow, I really like these guys.' I think it just really comes down to getting along well with them. A great band that are our long lost brothers – we felt when we saw them and even more when we talked with them – they're called the Great White Jenkins from Richmond, Virginia.
BC: I think they're one of the best bands in North America. If you take the Staple Singers and Albert Ayler – I don't know how to explain it – but there are no effect pedals, this heavy Drag City type composition style. It's remarkable. There's no way to describe it.
PC: Something also that was really comforting for a band like us and coming from a place like we came from. We really came from jazz and that kind of scene…school band programs..that's where we kinda of came up to an understanding of a musical community and all that. So when we meet other people who came from that and not from 'Oh, well, my older brother bought me my first Germs record when I was 9,' that sort of thing, we've just never been those dudes. We listened to…
BC: ..Aaron Neville. Our dad got us the new Neville Brothers record. [laughs] And we're like 'Cool!'
PC: Yeah, that wasn't what we had, that wasn't how we connected. That was the door we took, so when we meet other musicians who came in that door, it's especially poignant for us.
BC: You could say that we've been unbelievably fortunate that every band we've toured with, literally, we've gotten along with awesome. Greg Davis, who's a drone artist out of Vermont, the Rosebuds, Akron/Family, Arnold Dreyblatt, he's a 54 year old minimalist composer, the Dodos. All these bands were great. We tend to look past the music first and foremost. In this weird way, with Arnold, we were asking all these questions and he took on this weird father-figure role. He was flying from show to show because the drives would kill him. But he'd call us when he got there to see if things were going safe and we'd get there and we'd all hug. It was this amazing kind of father-son relationship we had with him. We've been really lucky in that we haven't been paired with anyone we didn't love by the second day.
AD: Is that something that these relationships in turn help the performances connect and build on one another?
PC: I think I'm remembering this right. In your interview with Ivan, he said something I agree with – he said he wasn't sure how we would work together at first or how it would look to the viewer. Every time we do that we put ourselves in a situation where we weren't sure. It always ends up feeling like we get something out of it that we didn't expect and it really hits us hard. I remember that with the Dodos especially. I remember thinking 'Oh, their songs are nice,' but by the sixth show it was like 'I love their music, it's so addicting!'
AD: The first time I saw you guys was back in 2007 opening for Menomena and you'd told me earlier that that was the first time you felt like you'd played a really good show as a band. That up until that point you had been having to question yourselves a lot about the direction of the band. Can you tell me a bit about how you developed that sense of who you were as a band through those first shows?
PC: It was recording that, to me, that did it. All the spontaneity in our shows and everything really benefits from having a quintessential version of a song.
AD: Like scaffolding.
PC: Yeah, like scaffolding or the essential parts – boil it down. Whether it's something that is kind of far out or just the song – I think "Where We Belong," we improvise that now much better now that we've recorded it and "Lazy Suicide," we came up with the vocal – this interactive audience vocal thing – out of working on that actual composing of that middle jam section. I think that's been an important turning point in our band, when we finished that record and we started paying better shows because we had this reference and it wasn't just in our heads anymore, it was on a record.
BC: I think there's something kind of oddly poetic about our first show ever was opening for Menomena at King's in Raleigh. And we had played our last show with DeYarmond Edison and the guy who books Kings asked us if we were going to start a new band. And we said yeah, tomorrow. He asked if we could play a show in a month, so we said yeah, and so we wrote all these half-baked ideas and we played with Menomena and we were a mess and I'm sure the show didn't sound great, but for some reason, those guys gave us so much confidence to continue as a band. They were like 'you guys are our favorite band we've ever played with on a tour out here' and said all these pleasant things and we were kinda like 'uh, were they drunk?' [laughs]
We couldn't quite figure it out but we were like 'well, maybe we did something right.' We went through all these identity things and reacting and all of a sudden we came and played this show with Menomena – their booking agent said 'hey, they really want to play with you guys again,' – and it was kind of cool because they saw us at this one show and then ironically, when they saw us the second time, we thought it was the first time we'd really performed a set of music in a way that this band was really going to perform and we don't know if they even liked it as much. They didn't seem as into that one and I think it was this weird thing where they thought we were a really different band, and we were a different band.
JW: At first the only, the best feedback we always got were from other bands. Not all the bands, from some bands. We never heard anything from the audience. It was always other bands. They'd say 'that was really bold.' [laughs]
BC: Bold…confusing…interesting..[laughs] I think Joe's wife and Phil's fiancé were most supportive but I think, again we're talking about fiancés and wives here, they said some mildly pleasant things. Like 'It was good…' [laughs]
PC: We got like every mildly vague reference you can probably get as a band for eight straight months. [laughs] I finally knew – when we finally played that one show, I felt so good, I felt something really is moving right. And my roommate is a harsh critic. He's a music critic here in town and he never says anything to us after shows which I kind of appreciate. And after that one show, he said 'that was really good, actually.' There was an 'actually' in there that he said.
JW: He was really biting his tongue during the first whole year.
PC: I think that show, too – I remember distinctly getting done with that show, walking out back of the 506 [Local 506, the venue] and Brad is kind of like…shoulder..shoulder.. [a huddle] and we were like 'we want to keep doing this.' It was a very specific moment where we all just looked at each other and said 'this is worth it. We can do this. We can make it work.'
AD: You were talking about coming from a different musical background than others in the nebulous 'indie-rock' world. Can you talk about your various musical backgrounds and how you got into music and things that drove you?
BC: Phil and my's parents are very musical people – we're brothers. We were always into music and buying music at an early age. I was into sports. I became a musician my sophomore year in high school. And the entry door was straight up the Dead and Phish; they were the first two bands. Our dad was a big Deadhead. Phil had gotten into Phish and showed me that. My dad got me into the Dead and showed me that. We were also into Dave Matthews Band, Medeski, Martin and Wood, those contemporary and periphery bands – we went to Phish shows, we went to jazz camp – you know we latched onto improvisation in a grand way. The most passionate part of performing to me is improvisation. That's the thing I need night to night. The audience can be there, the songs can be there, that's great. But the moment I know 25 or 50 percent of our show can change on our mood or emotions – that is most important. Since getting into these grand bands who improvise, it's been whittling it down to the more pure forms of it I think. It's hard to capture those things on a CD, but that's been my journey. Making improvisation more intimate and what that means to me. That's my voyage.
JW: I think that says it all for all three of us. We have so many common points of interest and special interests where some of us know more. But it crosses over into each other's territory. Improvisation is such a vague term and I think that's something that we continue to recognize over and over is how many ways you can improvise and in what style you can improvise. I'd say, as far as a personal window, we've had each other and that's been the thing that has defined it to me. Making music with Brad and Phil has really opened the door. If someone has something they really feel strongly about trying and doing, we're going to go to that extreme, but we'll also go to the other extreme, whatever that is. We're broad, but we also want to make that broadness have focal points.
PC: So, if I'm going to add anything, I'm going to say that we do have really similar stories and they come from a similar point. But also moving here elevated things to a new level in that all three of us have gotten to exist in our musical identities in a more pure form since moving here. All of us have found a more stable ground on which to stand with our musical identities. We share a lot but we do different things. Brad has managed a Schoolkids Records, getting into his almost..musicology..is the level I put Brad at. The resources here are infinite for that as compared to back home in the Midwest. Joe, being able to set up a platform to do improvisation, has been able to use it in all kinds of areas, meeting different musicians. He even drums for dance workshops which involves improvisation also. And I'm the old-time, pre-war blues guy in the band and this is where that happened! Some of it was recorded in Wisconsin back in the 20s, but it was happening here. So I live in the same town where Sonny Terry and Blind Boy Fuller played on street corners and that, to me, makes me more satisfied than just about anything. Not to mention that the amount of people who play folk instruments and are competent and functional with their musical abilities is mind blowing here. I love it. I love the scene, the people. Every single scene is represented. We all have resources with which to use, extend ourselves into, and bring it back to the band. That's how I'd round it out. This is where we need to be. This is where we need to exist. words/ j neas
Download:
MP3: Megafaun :: Where You Belong
———-