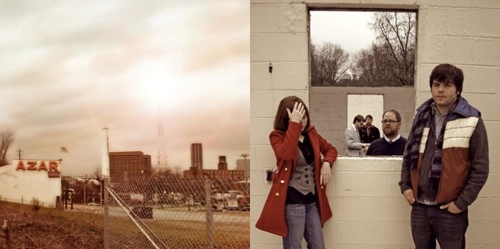 Off The Record is a recurring feature here on the Drunkard that marries two of my greatest interests; music and travel. Having a locals perspective when visiting a new locale is the difference between experiencing it through the lens of a tourist and of that of a native.
Off The Record gathers some of my favorite artists, asks them to reflect on their city of residence, and choose a handful of places they could not live without — be them bookstores, bars, restaurants or vistas.
After a few years off (in retail shelves that is) Athens, GA's Venice Is Sinking recorded not one but two albums last year.   In preparation for the March 31st release of record number one, entitled AZAR, the group gigged last week in Austin, at SXSW, and took some time to hit us up with some favorite Athens locales previously not covered in related OTR's (for those unaware we've had a bunch in done in the Classic City…all of which are very much worth reading).   Continuing in the vein of 2006's Sorry About The Flowers, AZAR finds Venice Is Sinking expanding on the orchestral, ambient, pop that initially caught my ear invoking the mellower side of Yo La Tengo/Mojave 3.
* * * * * * * * * * * * * * * * * * * * * * * * * * * * * * * * * * * * * * * * * * * * * * * * * * * * * * * * * * * * * * *
A lot of my favorite things about Athens have already been covered by Ham1 (link), Patterson Hood (link), and our friends in The Modern Skirts (link) in previous Off The Record installments, so I'm going to focus on some things the Classic City has to offer that probably get overlooked… – Daniel Lawson, Venice Is Sinking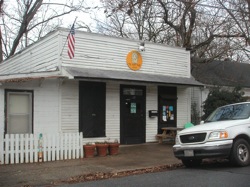 White Tiger :: This restaurant is located in an old wood frame commercial building on one of my favorite streets in town   – The Boulevard. Boulevard is technically the first suburb in Athens and the neighborhood surrounding the street is filled with these great old southern houses in various stages of disrepair. There are huge oaks that line both sides of the road with enormous branches that reach out and connect with one another in the center of the street. It's a great neighborhood to live in and I really miss the house i used to rent in that part of town. Anyway, White Tiger is right there in the middle of The Boulevard and they serve some of the best food I have ever eaten anywhere. Everything on the menu is simple, well executed and prepared with great ingredients. It's kind of hard to explain, but their food tastes exactly like what it is. If you order the carrot ginger soup, chances are it will taste like carrots and ginger. The food is just really honest and delicious and like a lot of places in Athens, there is something unique and charming about the atmosphere and the people that run it.
The Georgia Theatre :: I will probably catch hell from certain people for including this one – since lot of folks in Athens can't seem to get over the jam band / hippie associations that they have with this place. Yeah, I know that on most nights some band with members of Count Dracula's Weed Smuggling Jam Engine are playing here to a bunch of drunk fraternity kids, but the theatre gets some quality shows too! The sound system is by far the best in town, the staff are all pros and the owner has done a lot of renovations to the building in recent years which have made it a pretty great place to see a show. Plus, there is something special about seeing a band play in a room that was designed (at least partially) with sound in mind. I am certainly a little bit biased since we had the opportunity to record our third album with Dave Barbe there last May. The owner closed up shop for a week and we pretty much had the run of the place. We rolled take after take and drank scotch after scotch every night until the early morning hours. Needless to say, we all became quite fond of the place by the end of those sessions.
Blenheim Ginger Ale :: This is not something that is exclusive to Athens (it's made in South Carolina), but I'm pretty sure more of it is sold here than anywhere else in the country. It's difficult to explain the flavor / sensation of Blenheim's to someone who has never tried it before, but let's just say it's extraordinarily spicy and it makes you cough (in a good way) if you drink it too fast. It tastes the best in the summertime on the Little Kings patio over ice, with a reasonable amount of bourbon mixed in.
Front Porches :: A couple of friends of mine that have moved away from town in recent years have told me that this is what they miss the most about living in Athens. Many older homes close to town have some sort of front porch. Some are nicer than others (mine is splintery, faded and probably shouldn't be walked on with bare feet), but most are functional at the very least. People seem to actually use their porches here too, whether it's for reading, listening to music or hanging out – you definitely see people sitting around enjoying their porches in our city. It's pretty warm here, so you can comfortably use your porch for most of the year and at parties everybody always ends up squeezing onto them for some inexplicable reason (smoking?). If I ever move away from Athens, I'm pretty sure I'll miss my front porch.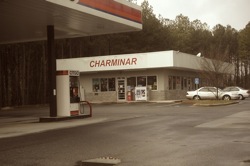 Charminar :: This gas station / beauty salon / Indian restaurant on the north side of town is true oddity. At first glance this place looks like an ordinary convenience store, but there's definitely a lot more to it than that. I don't know of any other establishment where you can fill up your tank, pick up some lottery tickets, get a haircut, rent a movie, transfer your VHS collection to DVD, fax important documents, purchase an extremely outdated (and possibly broken) desktop computer monitor, buy some pornography, develop a roll of film and sit down for a delicious meal of homemade Indian cuisine – all under one roof! They also have the largest selection of single beers for sale in a gas station that I have ever encountered, and if you ask nicely, the owner will discreetly pour one into a plastic cup for you to enjoy with your eggplant and spiced cabbage.
Download:
MP3: Venice Is Sinking :: Ryan's Song
—
Video: Venice Is Sinking – Ryan's Song