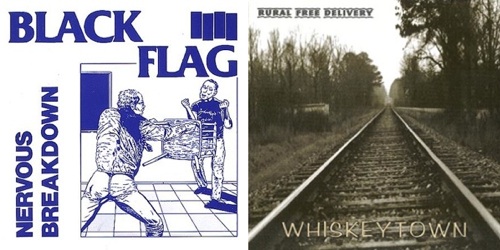 If you were to pose the question of what makes for a good cover I would cite Whiskeytown's late '90s re-tooling of Black Flag's "Nervous Breakdown."   Yes, the group's alt.country forbears Uncle Tupelo pulled a similar landgrab before them with their cover of the Stooges "I Wanna Be Your Dog", but Whiskeytown take it a step further in that they (for the most part) forgo the good-timin' joke vibe and really seems to own it.   Back to back, the Black Flag original and its cover are incomparable both in spirit and delivery. We can only discuss in contrast. For the sake of argument let's say there are three kinds of covers: 1) note for note replicas, 2) total and complete deconstruction/reconstruction, and 3) the "happy middle", where Whiskeytown's "Nervous Breakdown" resides.
In lieu of Keith Morris's frenetic, amphetamine sneer, Adams' drawl-laden delivery hearkens back to the yesteryear of Nashville's music row.   While Morris spits out the lyrics like a threat; an almost challenge to fuck with him, or hell, even approach him, Adams high cotton delivery is both plaintive and loose.   In their individual contexts both work exceptionally well and in completely different ways. As a good cover tends to do, even the lyrics take on an added weight in Whiskeytown's rendering.
When Flag laid this to tape in 1978 — their first recording ever and the first SST release — like the VU, it sparked multitudes to pick up guitars and form bands.   In hindsight the majority of the members of Whiskeytown would have been between five and eight years old at the time…waiting a decade and half to lay down this cover.
Download:
MP3: Whiskeytown :: Nervous Breakdown(cover)
MP3: Black Flag :: Nervous Breakdown
————-
Amazon: Black Flag – Nervous Breakdown EP
+ + + + + + + + + + + + + + + + + + + + + + + + + + + + + + + + + + + + + + + + + + + + + + + +
A must watch for Black Flag/Rollins fans. An early '80s Rollins-era interview gone awry.
+ Download DRM free digital music via eMusic's 25 free MP3 no risk trial offer
—————————————————————————————————————————