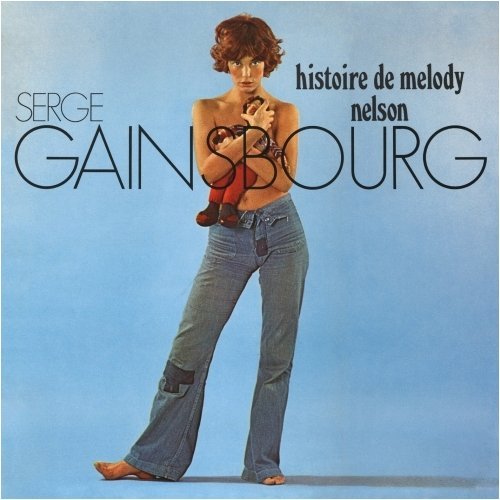 Light In The Attic Records again delivers another ace reissue, this time with 1971's Histoire de Melody Nelson, the recording that first turned me on to all things Serge Gainsbourg.   It is understood amongst those who count themselves fans of late '60s and early '70s French pop that Melody is unquestionably the artist/provocateurs high-water mark. His career opus.   An essential listen, and one that until now has been out of print in the U.S., I envy those unfamiliar with the LP having the opportunity to take in, as a whole, for the first time.
Being that my knowledge of the French language consists of a couple of semesters in college, one misspent week in Paris and bad art-house films, I was – for years – unaware of the running theme throughout Histoire de Melody Nelson.   It is, in fact, a concept album, and with a running time of 28 minutes, a short one at that. In short the plot consists of Gainsbourg, or his imagined stand-in, crashing his Rolls Royce into a teenage girl's bicycle — one Melody Nelson.   An illicit romance ensues.   I'm sure you can imagine what happens from here on out.   Think: Lolita with accidents.
An ambitious affair, the LP is an elegant mix of pop and rock, all orchestrated strings and big arrangements.   From the first of its twenty eight minute running time, Melody is all clove cigarettes, late nights, sordid trysts, and most any other French cliché you can think of.   It's all fantastic and it all works.
Related: We are giving away one Serge package to an AD reader.   The winner gets both the CD reissue of   Histoire de Melody Nelson as well as the deluxe vinyl.   Fan?   If so, leave your name, a valid email address we can reach you at and your favorite Gainsbourg anecdote.   For the record, mine is the one about Whitney Houston (amazing/crazy).
Download:
MP3: Serge Gainsbourg :: En Melody
———-
Purchase: Serge Gainsbourg :: Histoire de Melody Nelson
+ + + + + + + + + + + + + + + + + + + + + + + + + + + + + + + + + + + + + + + + + + + + + + + +
Jane Birkin & Serge Gainsbourg – Je T'aime Moi Non Plus (1969)
+ Download DRM free music via eMusic's 25 free MP3 no risk trial offer
——————————————————————————————————————————