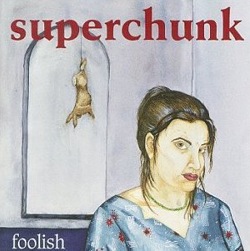 Even with the most nebulously named of genres, there are still artists that leap to mind as vanguards and progenitors of the sound and image of that style. When it comes to the muddled mess of 'indie,' Superchunk is a band whose name is a constant – not only because of their steamroller, power-pop-punk sound, but also because of being the very definition of 'indie' – starting their own, successful record label and putting out album after album of uncompromising music.
Every band has an album that people think most signifies the band and its work, and while critically it's their sophomore effort, No Pocky for Kitty, that typically gets that nod, for me it's always been 1994's Foolish.
Foolish was Superchunk's first album on their self-run Merge Records label and it is also one of Superchunk's darkest outings thematically, largely due to the then recent breakup of bandmates Mac McCaughan and Laura Ballance.   Opener "Like a Fool" is about half the pace of a heretofore normal Superchunk song. They had attempted something like this before with "Swallow That" from 1993's On the Mouth, but that song not only stuck out like a sore thumb in an album full of pedal-to-the-floor bursts, but it just wasn't a great song either. "Like a Fool" builds a melancholy and sometimes bitter tone for the album to come while also laying bare the caustic guitar melodies that would dominate the album's sound.
If anything, Foolish is an aurally consistent listen.   McCaughan's vocals are mired in a sonic maelstrom and in some cases become completely obscured – rational missives lost in a flurry of emotion and noise. The wash of guitars dominates the songs and risks making them all but run together – it's a tribute to the fantastic set of songs themselves that they don't.   "Water Wings," "Saving My Ticket," "Why Do You Have to Put a Date On Everything" and "Without Blinking" are perfect examples of the traditional blitzkrieg Superchunk sound, each barreling through their running time with aplomb.   Each has some memorable lyric, melody or riff that makes them stand out from one another.   They are also tastefully spaced throughout the record, anchored by songs that pull the reigns on the tempo.
The classic "Driveway to Driveway," "Kicked In," and the closing trio of "Revelations," "Stretched Out" and "In a Stage Whisper" all work at giving the album a depth of sentiment.   These are songs that hint at the talent the band would show for the more nuanced pop of their later records like Come Pick Me Up and Here's to Shutting Up.   While the strength of songs is key to keeping the album's consistent sound from running together, it's the slower songs that help as well, giving the firepower more substance by comparison. It's an excellently sequenced album that takes the listener from one melancholic bookend to another, searing through rage, frustration and acceptance along the way.   If only all breakups were this tuneful.   words/ j. neas

Download:
MP3: Superchunk :: Like A Fool
MP3: Superchunk :: Without Blinking
———-
Amazon: Superchunk – Foolish
+ + + + + + + + + + + + + + + + + + + + + + + + + + + + + + + + + + + + + + + + + + + + + + + +


"Driveway to Driveway" video from the Crowding Up Your Visual Field DVD
+ Download Superchunk via eMusic's no risk 25 Free MP3 trial offer.
—————————————————————————————————————————–