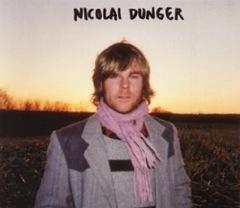 A few weeks ago while in Austin, a group of us were discussing Bonnie "Prince" Billy's new LP Beware — a conversation that soon shifted to Will Oldham related side-projects. Among other titles discussed was Swedish singer/songwriter Nicolai Dunger's 2003 album Tranquil Isolation.   While by no means his first rodeo, the LP served as my introduction to Dunger's music having read about its connection to the Oldhams — and not just Will, but brother Paul Oldham, who helmed the production of Tranquil Isolation at Rove, his Shelbyville, KY studio.
Vocally, Dunger's pipes reside somewhere between a less intense Jeff Buckley coupled with the mannerisms, phrasings and inflection of Van Morrison.   Not surprisingly the mood on Tranquil Isolation comes across as more organic than his other group collaborations (see his work with: Soundtrack of Our Lives and Mercury Rev).   Gone are the former orchestrated pop leanings and in their place are acoustic guitars, brush drums and fiddles.   While not overbearing, the Oldham's influence is palatable from the first song onward.   "Last Night I Dreamt Of Mississippi", like its title suggests, just drips with the region it was recorded in. Not unlike Dusty Springfield's Dusty In Memphis, Tranquil Isolation is an interesting look at a foreigner not only embracing the roots music of the America South, but really digging in and getting their hands dirty.   This is an album that sounds like Dunger walked around barefoot, more than a time or to, in that Kentucky blue grass on Oldham's farm during the recording.
While I appreciate Dunger's other work, this is one that I most return to — this is the favorite.
Download:
MP3: Nicolai Dunger :: Last Night I Dreamt Of Mississippi
———-
Amazon: Nicolai Dunger – Tranquil Isolation
+ Download Nicolai Dunger via eMusic's 25 free MP3 no risk trial offer
——————————————————————————————————————————