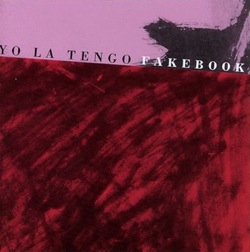 Last month we discussed Fuckbook, but first there was Fakebook.   As full albums go Fakebook is arguably one of, if not, the most enjoyable of Yo La Tengo's releases to sit down and experience from beginning to end.   Is it the most unique?   No.   The most groundbreaking?   No.   But while they have taken many various and adventurous turns throughout their career, both before and after Fakebook, it was here, four albums into their two-plus decade career that the Hoboken group dialed everything back to the bare essentials.   To make an influence appropriate analogy, this would be Yo La Tengo's The Velvet Underground, the VU's third, self-titled LP, released after two groundbreaking releases built on the deconstruction and re-imagination of "rock" music.
Comprised of eleven covers and five originals, Fakebook finds the group paying homage to, and relishing, a set of songs from both legends (Cat Stevens, The Flamin' Groovies) and contemporaries (Jad Fair) alike.   Whimsical, earnest, and at their most accessible, YLT doesn't miss a beat here.   Fakebook is close to perfection in the material, delivery and execution…and they never made another album quite like it.
Elsewhere: Already a fan of Fakebook?   If so, do yourself a favor and check out this feature over at Setting The Woods on Fire in which they gather up, and post, the original tracks the band covered.   Great stuff.
Related: Condo Fucks :: Fuckbook (Yo La Tengo)
Download:
MP3: Yo La Tengo :: Here Comes My Baby (Cat Stevens cover)
MP3: Yo La Tengo :: You Tore Me Down (Flamin' Groovies cover)
———-
Amazon: Yo La Tengo – Fakebook
+ Download Yo La Tengo via eMusic's 25 free MP3 no risk trial offer
——————————————————————————————————————————