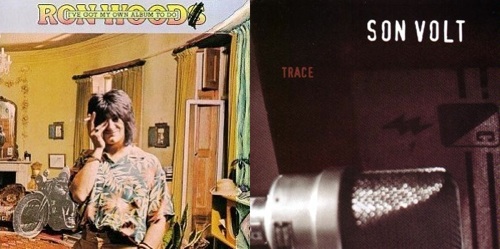 In comparing an original song to a cover, it usually makes sense to discuss the qualities that defined the original in relation to how the cover treats the material. But so many of us obtain knowledge of a song in the backwards way – cover first – that it can be just as insightful to look at how that experience shapes our perceptions of the original. That's how I came to know "Mystifies Me," originally recorded by Ron Wood, but brought to me via the fine folks in Son Volt.
Son Volt's cover of "Mystifies Me" closes their debut Trace with a touch of maudlin melancholy, letting Jay Farrar's voice end the album with a chance to show off his emotional range in a way that echoes the album's opening song, "Windfall." "Mystifies Me" also winds the album down on a song that is much more directly understandable than the typical imagistic wordplay of Farrar's own lyrics. As such, it's an anchor for the album's hazy, sepia vision. Son Volt's version plays out like a well worn love letter; something written between two people who know each other very, very well. The mystification that Farrar sings about is the evidence of their relationship's strength. It is a show of something that never gets old, that seeps and dodges definition.
Ron Wood's original, from 1974's I've Got My Own Album to Do, is a kneeling drunkard's plea to his beloved. Or is she? She could be someone that Wood could never get a hold on, someone who constantly defied his attempts to win her over or figure her out. His voice is filled with the uncertainty of someone lost in a cloud of emotions. A violent haze of swirling colors that blur his understanding of the situation.
The songs aren't that far from each other musically, but the moods are affected in important ways. The sound of Wood's original is the sound of a man inhabiting the '70s scene of the Faces and the Rolling Stones. There's a sense of woozy nostalgia to everything, a sense of unrealized ambitions and tragic mediocrity. Son Volt takes the song's wavering edges and tightens them up within the confines of pedal steel and softly punctuating drums that sharpen the song's musical focus. It's not only Farrar's delivery of the lines, but the music itself that turns a song of semi-desperation into a song of someone who is satisfied to let the mystery be. words/ j neas
Related: Ronnie Wood :: Sure The One You Need (w/ Keef)

Download:
MP3: Ron Wood :: Mystifies Me
MP3: Son Volt :: Mystifies Me (cover)
————