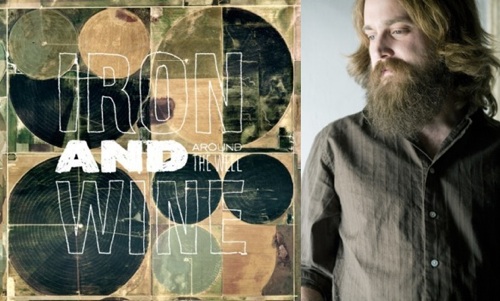 Saturday, April 18th, marked the second annual Record Store Day which by all accounts was a great success. Iron & Wine were among the various artists and labels who were offering up limited edition vinyl LPs, split 7 inches, live sets, and EPs to help raise awareness and attract buyers. To commemorate the occasion Sam Beam and company threw their hat in the ring with the release of an 18 track live CD recorded in June of 2005 while on tour in Norfolk, VA supporting the Woman King EP.
This '05 live set precedes the group's forthcoming 2-CD/3-LP rarities collection, Around The Well, that is slated for retail shelves May 19th. The collection spans the entirety of Beam's recording career beginning with tracks from the home sessions that eventually yielded The Creek Drank The Cradle on through '07s The Shepard's Dog.   Split up into two sections, the first half is reportedly "an assortment of hushed home recordings, unedited and raw, while the second highlights moments captured in the confines of proper studios with the help of other musicians, friends and engineers." Included in the collection is arguably one of Beam's finest efforts, 2004's "The Trapeze Swinger" (see mp3 below).
As if that wasn't enough to fill your Iron & Wine quota for the year, the group are presently giving away a free zip download of The Shepard's Dog alternate tracks via the Iron & Wine website. You may want to move on this soon, as I don't know how long they plan to leave them up.
In The Comments: Record Store Day 2009: Did you make it out and about? If so, how was your overall experience and what did you pick up?   Let us know in the comments.
Download:
MP3: Iron & Wine :: The Trapeze Swinger
———-
Pre-order: Iron & Wine – Around The Well
+ Download Iron & Wine via eMusic's no risk 25 Free MP3 trial offer.
—————————————————————————————————————————–