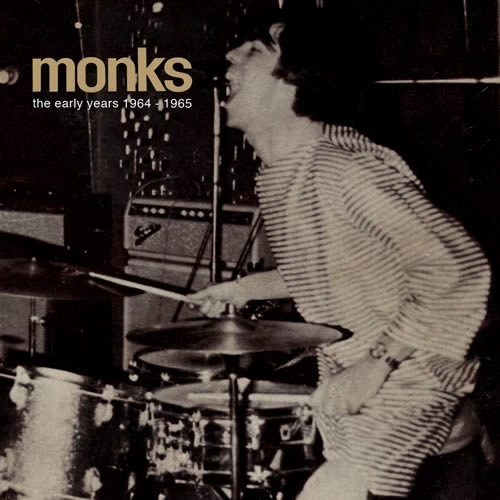 "This is a damned enjoyable slightly kinky 60's garage record"- Iggy Pop
Relatively unknown outside sixties garage enthusiast circles, The Monks were fantastic.   If you're not familiar, the story – in a nutshell – is that five US GI's, while stationed in Germany, started a band, were discharged from the army and decided to stick around making music. Light In The Attic Records has just issued both the groups Black Monk Time LP as well as a collection of early recordings.   Both discs are stacked with notes, interviews, lyrics, and photos. Anyone with even a passing interest in the Monks should check out the film The Monks: The Transatlantic Feedback.
Like the Serge Gainsbourg reissue, we are giving away Monks copies of both the CD and the vinyl to AD readers.   Interested?   Leave your name and a valid email address you can be reached at. Oh, and if you were one of the Serge winners, please let someone else have a go at this one.
Elsewhere: Pitchfork media recently ran a lengthy review here.
Download:
MP3: The Monks :: Monk Chant
MP3: The Monks :: Love Came Tumblin' Down
———–
Purchase: The Monks – Black Monk Time/The Early Years 1964-1965
+ Download DRM free digital music via eMusic's no risk 25 Free MP3 trial offer.
—————————————————————————————————————————–