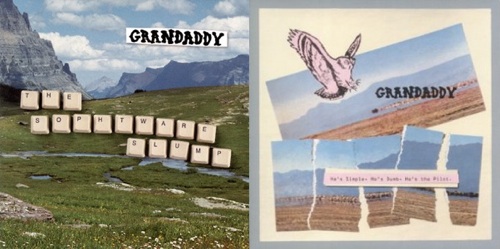 Tomorrow we're running the AD Interview with Jason Lytle.   With the exception of his performance at our SXSW party last month, there have been scarce newsworthy opportunities to write about the former Grandaddy frontman since the release of their 2006 swan song Just Like The Fambly Cat.
Reportedly a Lytle solo album in all but the name, Fambly Cat was an LP   that opened innocently enough with a small child's voice repeatedly inquiring "what happened to the family cat?" As the track progressed toward its end, the listener can only assume that the cat, and quite possibly the child, were/will be devoured by some malevolent technological noise/static-demon. In essence, a Grandaddy moment. And fear not, these Grandaddy moments are crawling all over Lytle's upcoming solo LP Yours Truly, The Commuter.
But for now, let us rewind a bit — here is the album-opener off the near perfect Sophtware Slump LP from 2000.
Download:
MP3: Grandaddy :: He's Simple, He's Dumb, He's the Pilot
———-
Amazon: Grandaddy – The Sophtware Slump
+ Download DRM free digital music via eMusic's no risk 25 Free MP3 trial offer.
—————————————————————————————————————————–