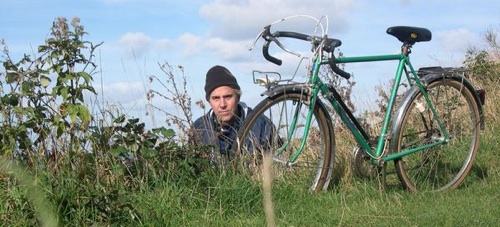 Jason Lytle is a name whose return will most definitely excite a number of you reading. As the former center of the band Grandaddy, Lytle's songwriting carved a unique and cultishly adored niche in indie rock. After the band called it quits preceding the release of their final album, Just Like The Fambly Cat, in 2006, Lytle retreated to the mountains, got lost, and rediscovered his passion for music.   Last week, Lytle sat down with AD to discuss this journey, his new solo record, and how one commutes in Montana.
Aquarium Drunkard: The record coming out, Yours Truly, The Commuter, is your first solo record. After having spent ten years with Grandaddy, how was sitting down to do this different? I don't know how the songwriting worked within the band –   writing by committee or whatever – versus how you've worked on songs as a solo artist.
Jason Lytle: To tell you the truth, it wasn't much different. Before the band even started, I was pretty heavily into home recording. I've always had my own studio. That's what sparked the whole thing to begin with. Grandaddy really came out of the home recording situation and we just started playing around town and it naturally expanded, got bigger and bigger, but the whole songwriting process and creative end of things, making the songs and arranging them and working out the parts, was pretty much my deal, with the exception of the drummer. I do play the drums, but he's better than I am. [laughs] He's a much steadier drummer than I am, so he pretty much made it onto the Grandaddy albums.
Other than that, I would just come up with the songs, hole up in the studio, and people would wait to see what I came up with. That's what I did this time except I wasn't anticipating these four guys waiting outside the door for me to say 'Hey, this is what I came up with.' It was pretty much me, myself and I in terms of setting up a record with the intent of making it sound good. The writing process was slightly more active this time because I did record the drums myself. As far as figuring out how to do that, setting up mics and running back and forth between the drum set and the record button – that became frustrating. But somehow I managed to get through it.
AD: The record is being put out by Anti Records, a highly respected label with a satble of great artists. How'd you get hooked up with them?
JL: I have the same management company as I had with Grandaddy and they're pretty good. They're based out of Los Angeles and they stay in contact with people. There did come a time where I let them know I was making a record and they said 'you know, we should try doing something with this.' So we entertained a few record companies that we thought were possibly a good fit. The thing with Anti is that they're pretty well varied, but there is an emphasis on solo artists. There are bands on there. But I was talking to one of the founders of the label and he said he honestly likes the idea of working with someone who's an artist, with a clearer vision of what they're trying to make, as opposed to the messiness which can oftentimes, not always, but oftentimes can be associated with bands. All the clunky inefficiencies that end up often being the case. My being out here in Montana, I love the idea of still having a California connection, because I grew up in California, so that's another plus for them.
AD: You moved out to Montana following the release of the last Grandaddy record and the dissolution of the band, but you guys were putting out records at a steady clip – one every two years. It hasn't been that long since the last album – only three years. Is there any time you actually took off from music when you moved, or did you always have this record in mind?
JL: I definitely didn't have this record in mind. I was kind of drifting. The only thing I knew was that I needed to move, and I was just hoping that a lot of answers would present themselves to me. I kind of needed to figure out a number of things and change my environment. I wanted to live somewhere I felt like I could be a contribution to my community. I wanted to live somewhere I'd be surrounded by inspiration. I do a lot of outdoor activities, so I wanted to be somewhere close to the outdoors. I really did put music on the back burner. The whole Grandaddy touring machine was beyond my ability to make sense of it anymore. There were a number of reasons why the band had to come to a halt. It was nice to finally feel like I was done with that chapter.
It's funny, because right around the time I came out here, tax time came up and I was still responsible for all the Grandaddy tax stuff. So in my mind, I was like 'Alright, I'm done with all this,' but then I was haunted by the trail of taxes and stuff trickling in from tours and merchandise for the next year. It was very much like a divorce, you know, god, just be done with it already. [laughs] I pretty much knew that I was going to build a new studio and re-gain my relationship with music on my own terms, but that needed to take some time and that's pretty much what I was doing in the course of the three years. I was relocating and getting my relationship with music back.
AD: People might wonder, with your relocation, what impact that might have on your songwriting. The new record is called Yours Truly, The Commuter. I, personally, have never been to Montana, but commuting is not the first thing I think of when I think of Montana. There seems to be this mix of imagery on this record. What, if any, definite influences did your relocation have on the record and how has that mixed with where you grew up?
JL: Sometimes I think it's a problem that I love taking trips; half days, full days, camping trips, road trips, or just taking off and getting lost, staying in motels, not answering the phone, staying away from everything and getting in my own zone – listening to music and reading. I've become a little reliant on that. On one hand it's very necessary to me – it could be likened to some kind of meditation. I really have to step out of the pressures and the concerns and responsibilities of being an upstanding human. I think I'm just an escapist at heart. I get that from spending time in the studio. I get that from spending time on these back country trips. It can become a bit surreal.
You spend chunks of time not talking to anyone or seeing anyone and there's this weird transitional period where you have to realize, okay, it's time to come back. Some people get this from drugs or drinking, but at some point you have to come back, there is this period of re-entry. I've found that in order for me to be good at being a human and at doing art, I have to go pretty deep into each one of them. But there is always this transitional period and I likened it to commuting, like commuting to and from work. I found myself constantly falling back on that concept. I'm just fascinated with it and I've seen over the years it really does take a concerted effort at getting better at that re-entry phenomenon. I want to continue becoming a better person and making valid art, stuff that really requires me to lose myself for awhile, but I've found the hardest part is just walking back and forth. There are plenty of opportunities for me to do that here, but in a positive and constructive way.
AD: The title track of the record is the opening song and the opening line is: "The last thing I heard I was left for dead / Well I could give two shits about what they said / I may be limping / but I'm coming home." Is this a reference to that idea of commuting and getting outside yourself?
JL: I am starting to stack up a few good stories about these little adventures I go on and how iffy they get toward the end and it is a matter of getting back home in one piece. I do live in an area where hypothermia and grizzly bears are a reality. But the title track in particular is more about this big round trip I had to take as far as what Grandaddy became and how it ended up. Basically, I found my pure, excited, almost youthful relationship with music again and it was this kind of round trip I had to make in order to get it back. 'Limping' is a bit of an understatement as far as the injuries incurred. It's good imagery, too.
AD: You talk about your relationship to music, but at this point, what does art and music do for you? Is there a goal or something in particular that is there to accomplish? What sort of role does art play in your life?
JL: You know, I resisted it for years. I didn't grow up around creative people. I didn't grow up around artists and musicians. I pretty much had come to the conclusion that I was going to work at some sort of job behind the scenes – a factory or a kitchen or driving a truck. I didn't get too far. I dabbled in junior college and pretty much fell into this music thing and realized there was something there. At some point, and I still feel embarrassed to say this, I realized I might be onto something, I might be good at this. I love to make songs. I love being in the studio. As much as I can stand being indoors, it's something I love to do. I really think that I do tap into something every now and then – this is my medium. This is my way of doing it. But all the rest of it is just facilitating that in one way or another – playing shows or interviews and whatever. All the stuff that surrounds it. I don't know. I'm still embarrassed to say it, but I'm an artist and it feels good to make art. This is how I make my art.   words/ jneas
Download:
MP3: Jason Lytle :: Yours Truly, The Commuter
————
Pre-order: Jason Lytle – Yours Truly, The Commuter
+ Download DRM free digital music via eMusic's no risk 25 Free MP3 trial offer.
—————————————————————————————————————————–