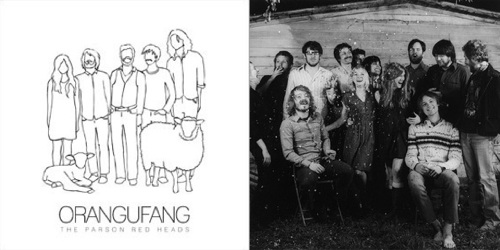 (Diversions, a new feature on Aquarium Drunkard, catches up with our favorite artists as they wax on subjects other than recording and performing.)    
Steeped heavily in the sounds of the last four decades of the golden coast, I was both surprised and thrilled when Parson Redheads principle singer/songwriter Evan Way suggested he compile a Diversions piece on his favorite artists/albums from the 80s.

Over the course of the past 2 years, I've gone through a very rapid catching up process with the decade of my birth — the 1980s. To the uneducated (and sometimes even to the educated), the 1980s are thought and talked of as a very bleak time for music. Many bad records were made, and many good records were made bad by what some may call "questionable" production decisions. And the synths…oh the synths. And the clothes…oh the clothes. The person who thinks this is partly right — all of those things are true to a point. Some great records were ruined by production choices. Some horrible records were made. But what decade can't that be said about? I doubt one could be found. Surely the 90s is no saint-of-a-decade. Even the sacred 2000s have given birth to some atrocities.
In my crash course of the 80s, I've been able to dig deep and find albums, songs, and artists that I believe are truly life changing — they've definitely changed my life in a big way. Up until last year I was definitely a 60's and 70's music kid. And I'm not saying that music still isn't dear to my heart. But I can tell you this much: over the past year I've listened to more 80's (and a few early 90s) indie rock than I have 60s records OR new records.
I'm here to share with you some of the songs and records that I've been lucky enough to discover and enjoy. Let the games begin!

1. Galaxie 500 :: Today (1988) and On Fire (1989) — So I'm starting out with the heavy hitter, in my opinion. I was led to listen to Galaxie 500 by first getting WAY into singer Dean Wareham's second band, Luna. After obsessively listening to them for a year or so, I branched out to see what else members had been a part of. I'd always heard of Galaxie 500, but never listened. I really didn't know what I was missing.
The way these records unfold is really beautiful. They don't try to do anything fancy — most of the songs start with a two chord progression being strummed on a clean, reverbed electric guitar. 2 bars. Then in comes the band — Naomi basically used the bass as a lead instrument, playing beautiful underlying melodies beneath the rhythm guitar, and Damon kept everything together with a sort of tribal-meets-jazz style of drumming. These songs are sprawling, SLOW, and sound like they are being played in a cave, or in the grand canyon. And even though half the time the lyrics are completely bizarre, the combination of all the elements brings out feelings of sadness and isolation that you really don't hear often — the songs just get inside you.
MP3: Galaxie 500 :: Snowstorm (via On Fire)
2. The Feelies :: The Good Earth (1986) and Only Life (1988) — I discovered The Feelies when the Parson's old bass player, Dane Garrard, brought home The Good Earth on vinyl. He had just begun playing bass for The Tyde, as well, and Tyde guitarist Ben Knight gave him that record, calling it a must listen. He was right. I distinctly remember when Dane put it on the turntable, being BLOWN AWAY by the sound of the acoustic guitars, and the impact of the driving drums forcing everything forward. This energy that I had NEVER heard in music before. And then the vocals came in — barely a mutter behind the wall of acoustic guitar, bass, and drums. Such a strange decision — you honestly can barely make out words and voice on half the record. But it works — the voice becomes another instrument in the unique wall of sound they create, taking you to a different place. Granted, on their follow-up record Only Life they take a more traditional route and actually make the vocals audible — and this, for the setting, was the right choice. Both records are great, and totally different. They are completely New York cool, with a more rural, organic feel. Velvet Underground-meets-mother-nature, or something to that effect. Perhaps more than any of the other records on this list, Feelies records have changed the way I look at and make music.
MP3: The Feelies :: It's Only Life (via Only Life)
MP3: The Feelies :: On The Roof (via The Good Earth)
3. R.E.M. :: Murmur (1983) — So believe it or not, it took me a LONG time to discover old REM material. I was much more familiar with records like Automatic For The People, New Adventures in Hi Fi, and Monster. All great records, to be sure. It took me until literally a year and a half ago to listen Murmur. Of course I'd heard the singles from it — "Talk About The Passion" and "Radio Free Europe" — but I'd never had the experience of the record as a whole.
I was driving an old green pickup truck for a while. This truck only had a tape deck — no CD player, and the radio didn't even pick up stations very well. So I was stuck with tapes, of which I didn't have many. So I dropped by a record store near where I was working in Santa Monica, and picked up some old classics that I'd never owned before, in their original cassette form. This was one of them. It didn't leave my tape deck for MONTHS. The production is miles ahead of most records made at that time — layers of sound from insane forms of percussion, to string quartets, to tack pianos. The jangley Byrds-esque guitar playing of   Peter Buck is, of course, something I immediately get drawn in by, as well. Its such a cohesive experience, even though is completely eclectic in every sense of the word, ranging from bizarre tempo'd dance songs to beautiful melancholy ballads. And I challenge anyone to show me an REM record where Michael Stipe's voice sounds better.
As a little side-note — Peter Buck also produced The Good Earth, by The Feelies, mentioned above. Small world!
MP3: R.E.M. :: Shaking Through

4. Felt :: Crumbling The Antiseptic Beauty (1981)   and Forever Breathes The Lonely Word (1986) — I hadn't heard of Felt until I had heard the band The Tyde (also mentioned earlier). For those of you who don't know, The Tyde is a local LA surf rock band — great group of folks! Anyway, they are OFTEN … as in almost always … compared to Felt. I got curious after hearing that a few times, and checked out Felts record Forever Breathes The Lonely Word. Sure enough, the comparisons are more than apt. They are VERY similar. But Felt takes their version of skewered pop music in a different direction that the Tyde has ever taken it, combining the more traditional early 80's indie rock sound with the guitar and bass interplay of Television. In fact, apparently Felt got their name from how Tom Verlaine (singer of Television) pronounced the word "felt" in the song "Venus" (on their cult classic Marquee Moon).
Forever Breathes The Lonely Word is a beautiful collection of driving and bitter-sweet pop songs, covering territory from Talking Heads to Beach Boys to Television. On the opposite end of the spectrum, Crumbling The Antiseptic Beauty is full of haunting, guitar led dirges. The guitar interplay is still very Television, in a way, but the atmosphere is much less sun, much more winter — the production is cold and distant, the melodies coming in and out of the shadows. What is most striking is that Crumbling was Felts FIRST record. A very daring move, especially for a band in those days. They followed Crumbling with a record entitled Splendour of Fear, which is majority instrumental — another bold move. Both records are beautiful testaments to the creative genius of Felt frontman Lawrence.
MP3: Felt :: Fortune (via Crumbling)
MP3: Felt :: Rain of Crystal Spires (via Forever Breathes the Lonely Word)
5. The Bats / The Verlaines (the Dunedin Sound movement) — In the early 1980s, the New Zealand city of Dunedin spawned a specific indie rock movement that is known as "The Dunedin Sound". Many bands fell into this category: The Clean, The Chills, Sneaky Feelings, and many more. The ones I want to briefly mention are The Bats and The Verlaines.
This breed of indie rock directly paralleled the movement in the US that was known as The Paisley Underground. It was a re-thinking and re-energizing of 60s folk and psychedelic rock — jangley guitars, lo-fi recordings, loosely played drums, and often female / male vocals, were large pieces that made up the Dunedin sound.
The Bats record Daddy's Highway is, in my mind, a lost classic. A excellent pop record — dueling female and male vocals, sunny pop melodies, always with a darker underlying message when you really dig into the lyrics. Listen to enough Bats records, and you will find out where The Magnetic Fields got almost all of their ideas.
The Verlaines version of the Dunedin Sound is much darker, more moody. They take the jangly guitars, the lo-fi recording, but infuse it with chamber music, often orchestrating entire passages with wind ensembles. What really sets them apart, especially their record Bird Dog, is that they will always throw in an unexpected turn — just when you think you've got the song figured out, in will come a strange female call-and-response vocal, or a dissonant horn quartet — and next thing you know singer Graeme Downes is yelling his head off (not often heard in that day, in this type of musical context). The Verlaines made a name for themselves pushing new musical boundaries and ideas.
MP3: The Bats :: Miss These Things (via Daddy's Highway)
MP3: Verlaines :: Makes No Difference (via Bird Dog)
Thanks for reading my lil' list of 80s records you should check out, that may just change the way you think about 80s music from now on. There are MANY more records than I could list here. I would love to talk to you about them sometime. Call me up. Lets make a night out of it. – Evan Way (The Parson Redheads)
Download:
MP3: The Parson Redheads :: Raymond (new)
——–