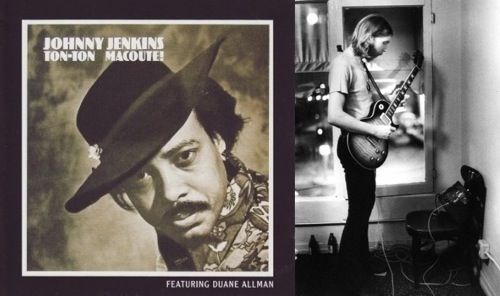 While he may be a footnote in history (compared to some of the artists he surrounded himself with) Johnny Jenkins laid down one heavy hitter of an album in late 1969 — Ton-Ton-Macoute!.   As the the leader of The Pinetoppers, Jenkins famously hired Otis Redding to be his personal driver prior to Redding being discovered at STAX in Memphis.   But, as you know, that's a whole 'nother story.

Much of the material on Ton-Ton-Macoute! was initially slated for a Duane Allman solo project until the guitarist split to concentrate on the newly formed Allman Brothers Band. Besides Allman, his bandmates Berry Oakley, Jaimoe, and Butch Trucks all guest on the album with Jenkins' vocals working in tandem with Duane's playing.   Like many of you reading, I was initially turned onto the album years ago via the posthumous Duane Allman Anthology Vol. II.   Jenkins and Allman's rendition of Dr. John's "Walk On Gilded Splinters" nearly rivals the original with their injection of raw soul and blues into the spooky, swampy, vibe of John's Gris Gris album closer.  

Recommended Reading: Skydog: The Duane Allman Story.

Download:
MP3: Johnny Jenkins :: Walk On Gilded Splinters (w/ Duane Allman)
——–
Amazon: Johnny Jenkins – Ton-Ton-Macoute!
+ Download DRM free digital music via eMusic's 25 free MP3 no risk trial offer
——————————————————————————————————————————