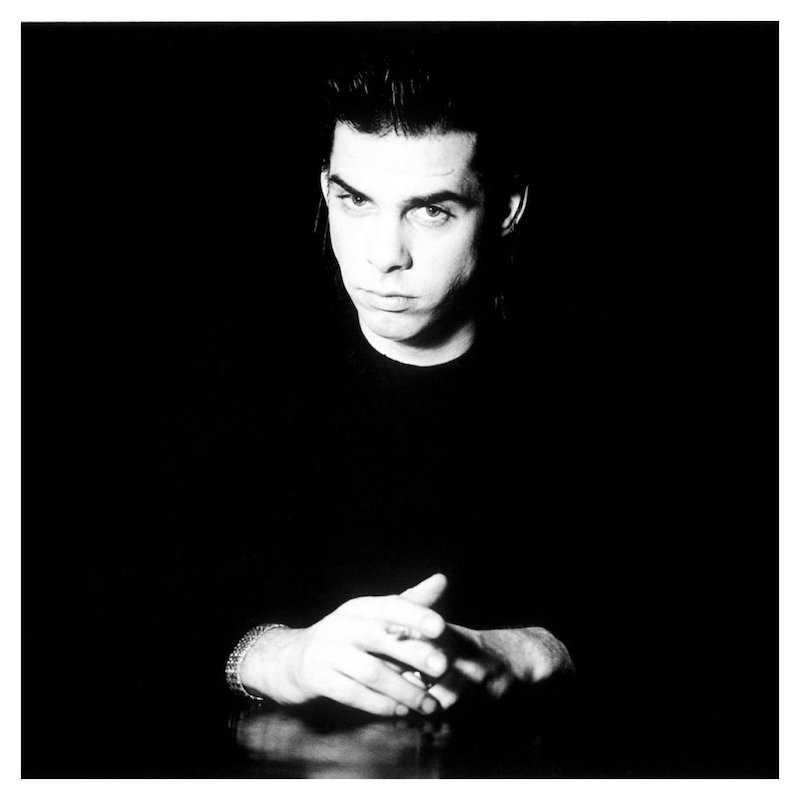 It's a good time to be a Bad Seed.   In addition to releasing the critically-acclaimed Dig, Lazarus, Dig!!, Nick Cave has, in the past year, toured relentlessly to rabid crowds, written the score to John Hillcoat's adaptation of Cormac McCarthy's The Road, curated the Australian edition of All Tomorrow's Parties, and worked on the eventual follow-up to his 1989 novel, And the Ass Saw the Angel.
Now, Mute Records is remastering and re-releasing Cave's entire catalogue with the Bad Seeds in 5.1 surround sound.   Each disc, which contains extended liner notes, b-sides and unreleased tracks, and a specially commissioned short film, will fit into a slipcase specially designed for the reissues.
Cave's first four records — From Her to Eternity, The Firstborn is Dead, Kicking Against the Pricks, and Your Funeral…My Trial — will be released in the U.S. on May 19th.   Over the next few weeks, Aquarium Drunkard will reexamine those first four albums as they originally appeared.   Previously: Nick Cave & The Bad Seeds :: From Her To Eternity
To understand what happened with Nick Cave between From Her to Eternity and The Firstborn is Dead, it's important to hear Cave's cover of "In the Ghetto."   The song, written by Mac Davis and made famous by Elvis Presley (and, for later generations, Eric Cartman), was left off of the original Eternity LP but found 7″ release between the two records.   As covers–and particularly Nick Cave covers, as we shall see next week–go, it's a straightforward affair.   Cave's baritone is rich here, a tone more befitting the smooth, heartbroken tone of the song than the strangle he'd been applying to the rest of the Eternity material.   The Bad Seeds show early signs of the tender noise they'd perfect over time, with Blixa Bargeld's guitar feeding back in a sort-of moan while Mick Harvey snaps out a martial dirge.   It's a moving performance, one completely devoid of irony, and Cave's first naked moment as a solo artist.
That tenderness would fade again by the time the Bad Seeds began work on The Firstborn is Dead, but it would leave its traces in the tones of Cave's voice and the Bad Seeds' willingness to dial it down into a focused skronk.   Where From Her to Eternity reads something like Nick Cave's attempt to Germanize the blues (made clear by covers of "I Put a Spell on You" from the Eternity tour), Firstborn marks a shift into something that the old bluesmen would understand, at least sonically.   Indeed, the seven songs on the original release of Firstborn are as deep and muddy as the Mississippi, as effectively frightening to contemporary ears as Leadbelly's prison moans must have sounded so many years ago.   Even a quick scan of song titles–"Tupelo," "Blind Lemon Jefferson," "Black Crow King"–makes it sound more like a series of abandoned prison recordings and murder ballads than a set of post-punk cabaret songs by an Australian with weird hair.   And while Cave may be coming at the blues from about as far away as possible, he and the Bad Seeds capture something of the essence of that genre for the first time on The Firstborn is Dead.   It may not grind like its predecessor, but that doesn't mean it's not bleeding.
"Wanted Man," a reworking of a song penned by Johnny Cash and Bob Dylan, finds Cave groaning out a jerky litany of cities he can no longer visit while the Bad Seeds build the gallows below him and the clouds above begin to billow.   As the song thumps along, gathering steam, women with Wild West names–Lucy Watson, Nellie Johnson–come into the picture, and he leaves their beds empty.   Yeah, yeah, he's wanted, but anyone who's done enough time in that many American cities has to be traveling alone, and it's that lonely roadiness, combined with whatever mania it is that drove Cave's wanted man into his wandering ways in the first place, that have truly hardened his trigger finger.   By song's end, Cave warns, "If the devil comes collectin', he better hold a six gun in his hand," and the threat isn't taken lightly.   It's a deep horror, coming from whatever crimes he's committed and from the shaken emptiness of being left to wander the country from Detroit to San Antone.   On From Her to Eternity, Cave would have shot Lucy Watson in the head and called it a day; here, he's not afraid to let his mind and heart do some wandering.
But the real knot in the noose comes at the very beginning, with "Tupelo." Firstborn's opening track–named for Elvis Presley's stillborn twin brother, Jesse Garon Presley–commences with washes of thunder and gunshot and rain, all of which quickly yield to Barry Adamson's peg-legged bass while Mick Harvey drums out a Bo Diddley beat till the skin starts to come off. This is an apocalypse you can nod your head to.   But the track belongs to the Worst Seed and to the images he repeats like funeral rites.   Cave barrels through "Tupelo" with paddlewheel rhythm, growling and shuddering at times, but never breaking into self-parody.   There's nothing remotely funny about the scene down south as Cave describes it, wrapping together floods and tornadoes with the Second Coming of Christ and the birth of Elvis and America and who knows how many other things in the tiny town of Tupelo, Mississippi.   "The King gonna walk on Tupelo," he wails repeatedly, referring to Elvis and to Christ in a narrative where the death of the day swallows the birth. The scratch of Bargeld's slide guitar is haunting, a sort-of vomiting upside-down John Lee Hooker, whose "Tupelo Blues" served as an inspiration for the song.   As with From Her to Eternity, Flannery O'Connor looms large all over the place, her crutches striking the levees and sending the river scattering into the homes like a pack of wolves looking for anything alive.   And the Bad Seeds coo the title out together–"Tupelo"–like combs dripping with honey.   And you can hear the waver in Nick Cave's voice as he shakes his head.   "Oh God help Tupelo," he says.   And the rain begins to pour once again.
The Firstborn is Dead is a record of sounds–the sounds of guitars partially unplugged, of rain hitting rocks, of the electric apocalypse.   But these sounds, which were all present on From Her to Eternity, work together as a whole, all forming in together to do something bigger–even when they come into the circle with their backs turned. Far from unscary black-and-white horrorshow, The Firstborn is Dead has much more room for the mature kind of shaking back-and-forth that believes the real horror isn't quite so obvious.   It's the portrait of an artist pulling himself into focus, turning away from the shock-rock and wild hair of his first record and into the wide-eyed literary horror that pulls in the over-educated alongside the simply frightened.   Because, after all, judgment comes for everyone. words/ m garner
Elsewhere: Nick Cave Scores Cormac McCarthy's The Road…