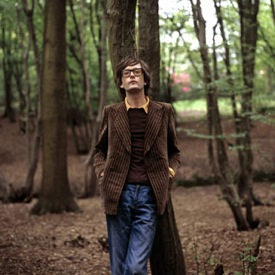 When Jarvis Cocker first called a hiatus, if not an end, to the band he had fronted for 20 years, it was hard to imagine what else a solo Jarvis could sound like. With a fairly consistent line up from 1994's His 'n' Hers through 2001's We Love Life (not coincidentally Pulp's best records), it was hard not to imagine just more of the same from Cocker. And 5 years later, when his first solo record finally did appear, it wasn't too much of a surprise. It was sharply written, finely orchestrated, dark pop music of the variety he'd been writing in his sleep for a score of years. Yes, it sounded a bit older, but then again so had the latter-day Pulp albums. Jarvis was settling down after all these years and it was reflected in the lyrical musings and observations that came with the sound.
But then some odd rumblings came around. The biggest was that not only was the new Jarvis Cocker album recorded in Chicago, but that Steve Albini was at the helm. There are all sorts of ways that this could have wound up, but the result, Further Complications, is one of the best records of Cocker's career, rivaling even the high points of Pulp's catalogue. While Further Complications and, say, Different Class are completely different animals, they are both equally enjoyable and divinely inspired with lyrics that showcase the whetted wordsmith and his finest.
Let's start with the music. Albini produced it, so how does it sound? This is one of the most raucous records Cocker has recorded. From the opening title track to follow-up "Angela," from "Homewrecker!" to the petulant twins of "Fuckingsong" and "Caucasian Blues," the album showcases Cocker and his band in top form as they rip through a serious set of stomping music full of thick, fuzzed out guitars, wailing sax parts and Cocker's voice raging against the dying of the light. Pulp's music has inspired people to dance, to strut, probably also to hit on someone way out of their league, but to pump fists? That's exactly the surprising, and awesome, part about Further Complications.
Lyrically, the domesticated Cocker seems to have been beaten into submission and left somewhere in a field in Hampshire. This is Jarvis the Libertine, back in fine fettle, but feeling his age and the slipping away of time. "I want to love you / whilst we both still have flesh upon our bones / before we both become extinct," he begs in "Leftovers," one of the album's sharpest lyrical numbers. "I Never Said I Was Deep" casts Jarvis as a cad's cad, confessing the title phrase before amending that he is "profoundly shallow." "I'm not looking for a relationship / just a willing receptacle." This is the Jarvis who eviscerates with scalpel precision. It's everything that made you fall in love with him as a songwriter in the first place and everything that seemed to be missing in the excellent, but subdued, Pulp and Cocker albums of the 2000s. words/ j neas
Download:
MP3: Jarvis Cocker :: Angela
MP3: Jarvis Cocker :: I Never Said I Was Deep
———
Amazon: Jarvis Cocker -Further Complications
+ Download DRM Free Music via eMusic's 25 free MP3 no risk trial offer
——————————————————————————————————————————