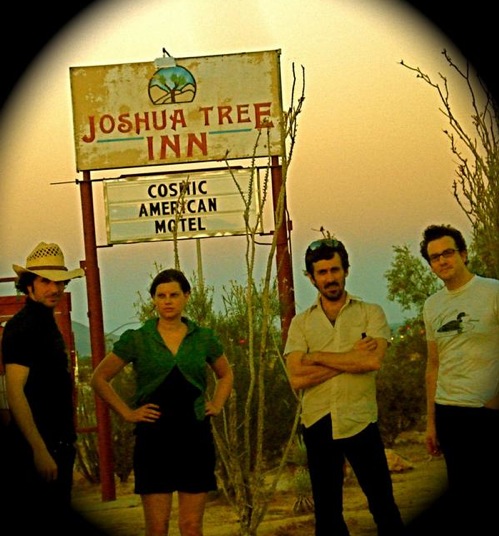 Off The Record is a recurring feature here on the Drunkard that marries two of my greatest interests; music and travel. Having a locals perspective when visiting a new locale is the difference between experiencing it through the lens of a tourist and of that of a native.
Off The Record gathers some of my favorite artists, asks them to reflect on their city of residence, and choose a handful of places they could not live without — be them bookstores, bars, restaurants or vistas.
Collectively, team AD has been listening to a lot of Nick Cave & The Bad Seeds of late (see the recent slew of Bad Seeds reissues).   But as it turns out, that is not the only import from down under that has had a hold on our ears; no, The Drones latest LP, Havillah, has also been in constant rotation.   After repeatedly hearing unanimous praise for the group at this year's SXSW, I finally caught their show at Spaceland last month.   Great stuff.   Below the Melbourne quartet run through what it is that makes home, "home."
* * * * * * * * * * * * * * * * * * * * * * * * * * * * * * * * * * * * * * * * * * * * * * * * * * * * * * * * * * * * * * *
The Weather :: Though the summers get pretty warm, the other three seasons are more or less on the mild to freezing side, which means I get to rug up. I hate wearing shorts. Shorts make me feel like a little boy. The only time I wear shorts is when I know I get to submerge them in water, at some point. Women can wear all kinds of great outfits when the weather's warm, but guys have to make do looking like it's their first day of school.
The Food :: Melbourne's a very ethnically diverse city. Since the end of WWII, there's been a steady stream of Italian, Greek, Vietnames, Thai, Chinese, Lebanese, African and Innuit immigrants into the city, making us spoilt for choice when it comes around to dinner-time. Racists are stupid. They should be made to eat chips all their lives as punishment.
The Coffee :: Somehow, for some reason, Melbourne was blessed with some of the finest espressos on earth. Obviously the Italian population had a hand in this, but Italians are everywhere all over the world, but good coffe isn't. Whenever I come home, I head straight to my local cafe, down a couple of those bad boys, then go home and build another house or a motorcycle from scratch.
Joe's Shoe Store :: This is my local bar. Everyone needs to have a local. Life is not complete without one. I can go into that place, not even open my mouth and still be served exactly what I was feeling like at the time. Also, the folks that run the place are as unruly as the unruliest of customers, so the mood is always right. One minute you're talking to them about the middle-east crisis, the next you're trying to talk them down off the bar and to put their clothes back on. How I miss it, when I'm away.
The Music :: Melbourne is a music city. Music maketh Melbourne, and Melbourne maketh the music. There are so many great venues in town (practically one per person), and music is played all over, seven nights a week. A lot of Australian musicians end up living here (two of my bandmates are from Perth, and one is from Tasmania) because the support network for these lousy bums is large and encouraging. If pushed to describe the sound of Melbourne, well Nick Cave looms pretty large over the city. Then you've got people like Rowland S. Howard. That guy IS Melbourne. Long black coat, pale skin, dangling smoke and the beautiful sound of a city, tucked away in the ass-end of the world. We hear he isn't well. This is heartbreaking news. We wish you the best Rowland.
Download:
MP3: The Drones :: The Minotaur
MP3: The Drones :: Oh My
———–
Amazon: The Drones – Havillah
+ Download The Drones via eMusic's 25 free MP3 no risk trial offer
——————————————————————————————————————————