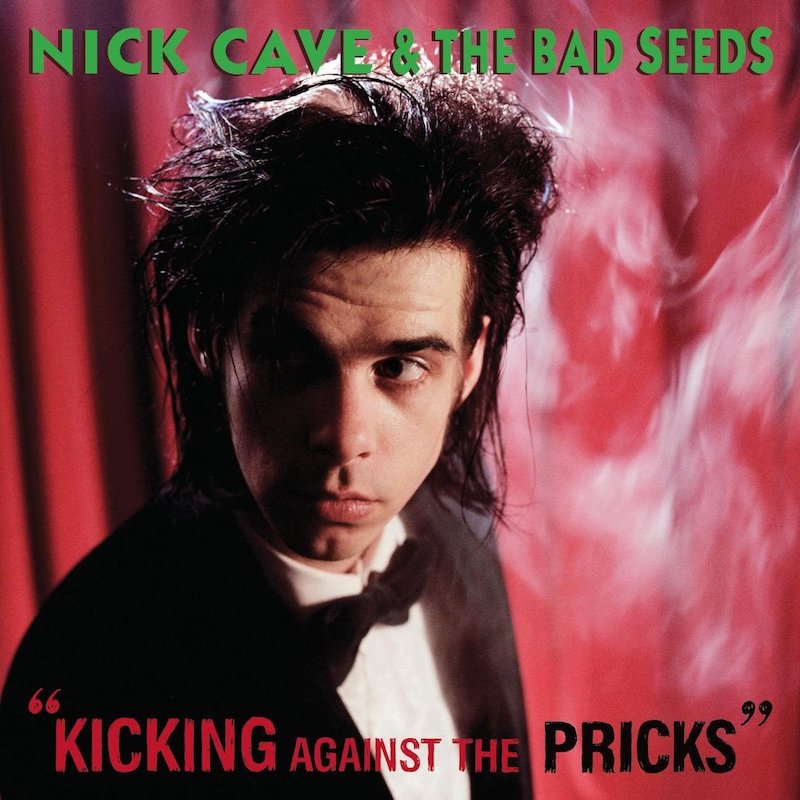 It's a good time to be a Bad Seed.   In addition to releasing the critically-acclaimed Dig, Lazarus, Dig!!, Nick Cave has, in the past year, toured relentlessly to rabid crowds, written the score to John Hillcoat's adaptation of Cormac McCarthy's The Road, curated the Australian edition of All Tomorrow's Parties, and worked on the eventual follow-up to his 1989 novel, And the Ass Saw the Angel.
Now, Mute Records is remastering and re-releasing Cave's entire catalogue with the Bad Seeds in 5.1 surround sound.   Each disc, which contains extended liner notes, b-sides and unreleased tracks, and a specially commissioned short film, will fit into a slipcase specially designed for the reissues.
Cave's first four records — From Her to Eternity, The Firstborn is Dead, Kicking Against the Pricks, and Your Funeral…My Trial — will be released in the U.S. on May 19th.   Over the next few weeks, Aquarium Drunkard will reexamine those first four albums as they originally appeared.
"In the biblical sense, Kicking Against the Pricks means something like fighting windmills.   This meaning is most important to me," Nick Cave told Dutch rock writer Tom Engelshoven, explaining the title of his 1986 covers album.   "But," he went on, "if you ask me if the word 'Pricks' refers to certain people in a non-biblical way, then I answer: Yes.   And I mean journalists."
Following the release of 1984's   From Her to Eternity, Nick Cave was lauded as some sort of upside-down Return of Christ by the British music press.   And of course, those same journalists would, one year later, trample all over the far superior The Firstborn is Dead.   Kicking Against the Pricks came as part of Cave's reaction to the letdown, a direct fuck-you to the journalists who, in their fervor to find a savior in rock 'n' roll, ended up crucifying anything that lets them down.   It's an ugly game, one that we Americans learned pretty well, and Cave's reaction is admirable.   And, rather than give the long-form writers something to muse over and get smug about, Cave played the trump in the '94 interview: "There is no concept behind it," he stressed to Engelshoven, "except maybe that we need not be ashamed of showing our influences."
And so perhaps it's a bit tough to talk about a record like Kicking Against the Pricks.   There is no over-aching sense of darkness or depression here–at least, not as far as Nick Cave's concerned–and none of the thundercracking passion that made First Born's opening track "Tupelo" such a standout. Cave only chose these songs because he liked them.   He's not adding anything, he's not making any kinds of claims or statements about American Southern Music or Rural Violence or any of his other preoccupations.   He's just playing a few songs that he really likes, and he's (for the most part) playing the shit out of them, strangling them so hard that they pass into new life–see, tellingly, John Lee Hooker's "I'm Gonna Kill That Woman," which Cave sings from a place so dark and resigned that it sounds more like obligation than desire which is guiding him.
This is the darkness that Cave finds in the old blues songs.   "Hey Joe," with its wailing vibrato and muttered vocal, goes a long way towards exposing Jimi Hendrix's seminal version as fraudulent and flowery.   Yeah, yeah, Hendrix is singing about shooting his woman down for cheating on him, but he doesn't really give a shit–which makes you wonder what Hendrix cared about more in the first place: his old lady or his pride.   Nick Cave, though, is and almost always has been a consummate moralist, in all of the best senses of that word; he knows that his music matters.   Murder isn't something to be taken lightly, and even if Hendrix does shriek "I shot her!" before his song's final boom and bash, it's not quite so much a cry at the horror of what's transpired in three minutes as it is an affirmation of it; Jimi got his gun.   You'll find no such sentiment from Cave.   Blame it on the darkness, but even at a young age, this was a man who understood evil.   This is why his creeping versions of the old blues songs here hurt in all of the right places.
Of course, it's also the reason that some of these tracks fall flat.   Though they'd come to play the form well by the time Cave truly needed them to, the Bad Seeds were not yet ready for gospel music in 1986.   Though the leader may have been peaking his nose into sunshine, there was simply too much darkness for them to pull off a straight version of the Alabama Singers' "Jesus Met the Woman at the Well." Though intended to be a reverent portrayal (remember: no irony here, Pricks), the Bad Seeds' bumbling Bobby McFerrin harmonies come across as detached and shaded, about as soulful as FM radio.   "Long Black Veil" fails for similar reasons; those country licks don't match the martial snap of Seedling Thomas Wydler's snare.
These missteps, though, are the exception instead of the rule.   If nothing else, Cave sounds free here, loose, willing to wag his head a little bit and sing with the swagger that would come to define him.   There's no super-serious straining, no jugularic attempts at Saying Something, and Cave, as a result, says much more artistically on his covers album than he does on either of his first two solo records.   It is a hard thing indeed to kick against the pricks, but sometimes it's the only way to fall into something bright.   words/ m garner

Previously: Nick Cave & The Bad Seeds :: From Her To Eternity
Previously: Nick Cave & The Bad Seeds :: The Firstborn Is Dead
Download:
MP3: Nick Cave & The Bad Seeds :: I'm Gonna Kill That Woman
MP3: Nick Cave & The Bad Seeds :: Hey Joe