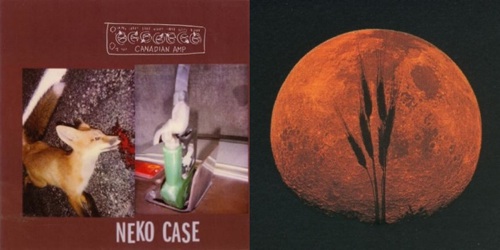 (Leading up to the June 2nd release of the first volume of Neil Young's long awaited Archives project, AD is posting a series Neil related posts.)
Those keeping track the past couple of weeks will note this is the second cover I've featured culled from Neil Young's 1992 Harvest Moon album (noticing a trend here?).   In comparison to the accolades heaped on other titles in Young's vast catalog, Harvest Moon (arguably) often feels as under-appreciated as it is inspired.   But I digress – we'll save that argument for another post.
While difficult to track down (edit: avail direct from neko) (at present it's both out of print and unavailable via digital distributors)   Neko Case's 2001 self-released Canadian Amp houses a number of covers (four by Canadian songwriters, hence the title) including her take of Young's "Dreaming Man."   Like the majority of the covers Case takes on, her voice here molds the track into her own.   Hank Williams fans should spin her rendering of the legend's "Alone And Forsaken" below.
Related: Tunde Adebimpe's cover of Young's "Unknown Legend" off the LP here.

Download:
MP3: Neko Case :: Dreaming Man (Neil Young)
MP3: Neko Case :: Alone And Forsaken (Hank Williams)
———-
Purchase: Neko Case – Canadian Amp
+ Download Neko Case via eMusic's 25 free MP3 no risk trial offer
——————————————————————————————————————————