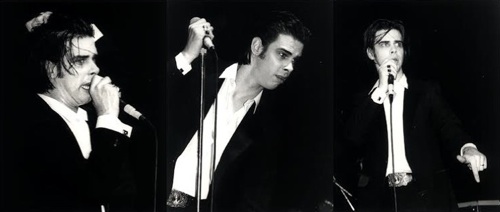 It's a good time to be a Bad Seed.   In addition to releasing the critically-acclaimed Dig, Lazarus, Dig!!, Nick Cave has, in the past year, toured relentlessly to rabid crowds, written the score to John Hillcoat's adaptation of Cormac McCarthy's The Road, curated the Australian edition of All Tomorrow's Parties, and worked on the eventual follow-up to his 1989 novel, And the Ass Saw the Angel.
Now, Mute Records is remastering and re-releasing Cave's entire catalogue with the Bad Seeds in 5.1 surround sound.   Each disc, which contains extended liner notes, b-sides and unreleased tracks, and a specially commissioned short film, will fit into a slipcase specially designed for the reissues.
Cave's first four records — From Her to Eternity, The Firstborn is Dead, Kicking Against the Pricks, and Your Funeral…My Trial — will be released in the U.S. on May 19th.   Over the next few weeks, Aquarium Drunkard will reexamine those first four albums as they originally appeared.
* * * * * * * * * * * * * * * * * * * * * * * * * * * * * * * * * * * * * * * * * * * * * * * * * * * * * * * * * * * * * * *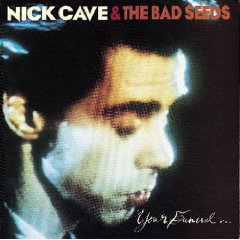 Any great artist, from the Beatles to Jean Cocteau, will tell you that the best art begins the moment the artist slackens his grip and allows his creation to breathe on its own–this great mystery of any human creation that Cocteau went so far as to call l'Ange Heurtebise, knowing that "angel" was the only word that could begin to capture the nature of the big indescribable.   Some artists think that all art comes from suffering, and that's exactly half true; what births our greatest sounds is the pains of an artist relinquishing control.
Don't think Nick Cave didn't know it in the summer of 1986.   Though he humorously titled Kicking Against the Pricks as a finger-flip to rock journalists, it's not much of a stretch to hear him thrashing about at his own windmills on those early records. Put simply, Your Funeral…My Trial is the sound of one man dropping his sword.   It's a chronicle of giving up–not in the sense of walking away, but the giving up that comes with seeing that he could never control himself, much less his art.   And so he stands naked, skinny, head slightly down.   But his lips still move.     This is a record full of mystery, of unanswered questions, of gazes.   This is Nick Cave and the Bad Seeds' first genuinely Great Record.
The changes come quickly.   "Forever a hostage of your child's world," Cave sings in opener "Sad Waters," addressing a character named Mary, along whose prison ribs Cave runs his heart like a tin cup.   Cave finds himself kneeling riverside, singing about water turning into wine, staring deep into the river as he resigns himself to love with fear and trembling.   It's a familiar sentiment–the reluctant acceptance of light–that Cave would explore for the rest of his career.   And while it's certainly a love song, Blixa's guitars scratch out something nervous in the back, a slight drug-bug creeping below the surface.   This is alt-pop with the jitters, and it's a song that Nick Cave simply could not have written in 1984; it's a testament to his integrity that he was able to do so as early as '86.
This is the vibe throughout Your Funeral…My Trial.   The album, and its singer, pulses with the potential to explode into something as bloody and gory as the best of those early records, but it's so wounded and defeated that it can't muster so much as a growl.   Even "The Carny," with its dirt-covered dwarves and dead horses, is pushed along by a funereal circus march that's more dirge than séance.   It's this obfuscation that powers Your Funeral, compacting the florid details of Cave's writing until they break in upon themselves, glorious in their weakness.
All over the album, Cave repents of his swagger.   "Hard On For Love" finds Cave again moralizing, singing hypnotized, cross-eyed, as he begs his way up the skirt of any anonymous woman.   This is not a sexy song.   As Blixa tears his strings and Mick Harvey pedals the beat apart, Cave goes on and on and up and over the breasts, the lips, giving in to compulsion, getting off on fulfilling his dripping animalia, giving no damns for consensus, or pleasure–a song like the glue that holds the mirrors to the ceiling, a song like an addiction to seeing oneself in the mirror in the morning, whispering that title while you kiss your bicep.   It is ugly.   And then things spiral more, and Cave starts invoking the Twenty-Third Psalm, mixing his metaphors about rod and staff, trying his best to wriggle free from the Lord's discipline, waving at himself in the mirror, seeing flashes of light, flailing around and flopping on the floor, defeated, crushed, but still hard on for love.   Maybe he has fallen out of God's hands, but he sure as hell isn't free as he writhes there, holding himself in his hands.
The overtly biblical references in "Hard On for Love" come as no surprise. All three of the previous Bad Seeds records are hefty in their treatment of sin.   They are populated by songs of murder and thievery and deception and fear, so well-considered and -treated that they are terrifying to approach–as they should be.   If you want to know what murder and fear and nihilism truly feel like, listen to From Her To Eternity.   Your Funeral, though, finds Cave finally ready to admit the evil within as well as the evil throughout.   And though he'd played with Christian imagery before–the birth of Christ in "Tupelo," the visions of martyrs in "St. Huck"–Your Funeral marks the first time that the images are the crux of the narrative, deep and soulful confessions that are more of Nick Cave than any of the characters in "St. Huck."
All of this–the violence, the confusion, the weakness, the repentance–reaches its apex in the title track.   Mick Harvey drags his fingers across the piano, while Barry Adamson's bass and Thomas Wylder's thumping drum provides the counterpoint.   Blixa, ever the servant, keeps the squawking to a minimum.   But the breath beneath comes from Cave's lilting organ figures, swaying across the beat.   "I am a crooked man," the voice begins, but instead of delivering it with cracked-teeth pride like he may have two years before, Cave sings with an accepted defeat.   It is a strength.   While the band continues to lead him down clover-draped gullies, Cave shakes his head, crying out.   And yes, he's had a rough few years, and yes, he's killed a few things along the way.     "Here I am, little lamb," he sings in the final verse, Adamson's bass trudging like footfalls up a hill.   It has been a long walk, and it will be a longer walk still.
It was 1986.   Two years and four albums into his solo career, Nick Cave stumbled and fell and let heroin and pretension and everything else take him to the ground.   And it was there that he would find himself. It was there on the ground that he would write a song called "No Pussy Blues," and another song that would appear on the soundtrack to The Passion of the Christ. It is where he has remained, stuck somewhere on the ground, somewhere in the dirt between heaven and hell and purgatory and whatever else, his eyes clouded in dust, still shouting, still cringing, still crying, and still muttering over the stumble of Barry's bassline as he sings sings sings from every angle, "Let all the bells of whoredom ring." words/ m garner

Previously: Nick Cave & The Bad Seeds :: From Her To Eternity
Previously: Nick Cave & The Bad Seeds :: The Firstborn Is Dead
Previously: Nick Cave & The Bad Seeds :: Kicking Against The Pricks

Download:
MP3: Nick Cave & The Bad Seeds :: Your Funeral…My Trial
———
Amazon: Nick Cave & The Bad Seeds – Your Funeral My Trial

+ Download Nick Cave via eMusic's 25 free MP3 no risk trial offer
——————————————————————————————————————————