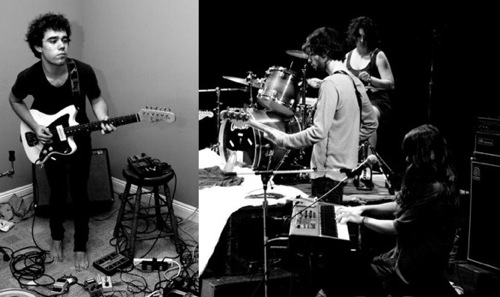 Off The Record is a recurring feature here on the Drunkard that marries two of my greatest interests; music and travel. Having a locals perspective when visiting a new locale is the difference between experiencing it through the lens of a tourist and of that of a native.
Off The Record gathers some of my favorite artists, asks them to reflect on their city of residence, and choose a handful of places they could not live without — be them bookstores, bars, restaurants or vistas.
Since AD began this series several years ago we have had numerous entries on Los Angeles and its various neighborhoods, each with their own regional identifiers and personalties.   Today marks our first Long Beach entry.   While just a short drive down the 710 from L.A., Long Beach is very much its own entity – a far cry from a bedroom community solely serving its larger neighbor (just ask any LBC native).
Below, Avi Buffalo takes us on a tour of his native hometown of east Long Beach, CA.   The band (of the same name) just completed their month-long, Tuesday night May residency, at the Echo in Los Angeles. Presently label-less (though most likely not for long) the group of 18 year olds craft sugary folk-pop that sounds both effortless and absolutely rife for placement in the next ( insert your "quirky" indie film soundtrack here).   Great stuff.   Highly recommended.
Download:
MP3: Avi Buffalo :: Summer Cum
MP3: Avi Buffalo :: What's It In For?
—————-
* * * * * * * * * * * * * * * * * * * * * * * * * * * * * * * * * * * * * * * * * * * * * * * * * * * * * * * * * * * * * * *
I'm from Long Beach! It's a city of people, and I think that's the best description I could give it. It's one of the most diverse places in the world, which I think sets the stage for a very open and relaxed environment. For now, people are able to stay bored in Long Beach, which is a helping hand in creativity. It's hard when you're so close to Los Angeles, because there's an overwhelming fog of the "industries", but there's an unspoken understanding of that in Long Beach, and a counteracting encouragement to just do your thing. There are a great number of nice places to hang out and eat — here's a list of places I can think of. I grew up in East Long Beach, which is very boring. There are lots of stoned teenagers, lots of indifferent suburban adults. I'll start there, and then move on with places in downtown Long Beach.
Wardlow Park: The Chillest Park in East Long Beach :: This place is awesome. It's right down the street from my house. A good-sized park with sports fields, jungle gym, recreation building, and really nice trees and grass. The grass rolls into the ground kind of hilly, and it helps you feel alone. Cops check it out sometimes, but you can totally go there and spend the night if you take a sleeping bag into the deeper section of grass and trees.

The Long Beach Towne Centre (or The T.C.) :: This is where we got the movie theatre, the food court, Sport Chalet, Barnes and Nobles, Powerstation Arcade(yes, laser-tag), Lucille's BBQ, Outback Steakhouse, T.G.I.Fridays, In-n-Out! We went there a lot in Middle School, but they sure jacked up those movie tickets. The Towne Centre is right off the 605 freeway where I get off to go home from L.A., so I often grab a burger before going home.
Downtown Long Beach has more "spots." Here are some of my favorite downtown places:
Carlos' Place :: Wonderfully warm environment, great place to take a breath.
The Coffee Cup Cafe (4th and Grand) :: Great breakfast and lunch. I usually get Laura Lou's Burger(Avocado, Bacon, Cheese), but pretty much anything there is solid. Big lines but "it's worth the wait!"
Dipiazzas (PCH and Anaheim Road) :: Long Beach's best all-ages venue. Run by Mark and Marilyn Dipiazza, wonderful people. I've played at Dipiazza's many times, in my first band Monogram, Avi Buffalo, Boris Smile, Dennis Robicheau, etc. Great place for dancing, great Italian food. Opened for Nels Cline Singers here. Kickass!!!
+ Download DRM free digtal musis via eMusic's 25 free MP3 no risk trial offer
——————————————————————————————————————————