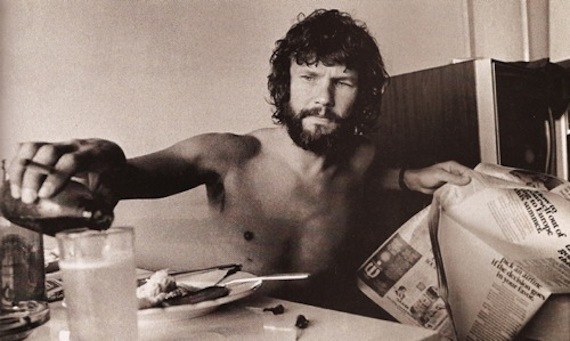 (Sevens, a recurring feature on Aquarium Drunkard, pays tribute to the art of the individual song.)
In 1995, through an unusual series of connections involving Coretta Scott King, my mother and high colonics, I got to attend the Martin Luther King, Jr. Day memorial at Ebenezer Baptist Church, the church where King pastored. It's a somewhat exclusive event, attended by a few notable figures, King's extended family, the congregation of Ebenezer and some nearby Auburn Avenue residents (King's childhood neighborhood). Of the few hundred guests, all but about a dozen of them were African American. The handful of non-black attendees included Bill Clinton, Edward James Olmos and Kris Kristofferson, the only real "famous" people there besides the widow King. Obviously, I gathered that the President would speak, and the Mexican-American Olmos, an ardent social activist, would also end up speaking. I couldn't figure out Kristofferson, though. He wasn't there to lecture, and this certainly wasn't a celebrity event.
Waiting outside the small church in the January cold, Kristofferson stood with the rest of us–"us" meaning the otherwise anonymous–speaking casually with those nearest in line about his kids–not his work or his celebrity–in the same way a neighbor or a relative or an old family friend might. When he turned to walk inside as the line advanced, my mom reminded me more times than probably was appropriate for a married woman what a great person he was. After the service, we marched into nearby downtown Atlanta singing "We Shall Overcome," and I watched him locked in arms with strangers–with us–who might as well have been from another world altogether.
This is my most immediate association any time Kristofferson's name is mentioned. Others may think of a particular song he wrote, maybe even one he sang, or a movie he starred in–as a musician, a vampire killer or Billy the Kid. Maybe it's because I was just 13 at the time and, to be honest, only vaguely familiar with him before that point, but I can't shake that image. To this day, it dominates any experience or relationship I had with his music.
So, it goes without saying, that when I read the Ethan Hawke-penned Kristofferson piece in Rolling Stone in early April (coincidentally, just days after the anniversary of King's assassination), this memory once again returned. Hawke's masterfully written and expansive analysis highlights a sort of infatuation with the man's biography, one that's not uncommon among Kristofferson's fan base, referring to Kristofferson as a "warrior poet."
Without delving into the history of a warrior poet, the term really needs only Kristofferson to be defined: A rugby and football player; prized boxer at Oxford, where he was a Rhodes Scholar; a helicopter pilot; an Army Ranger; a writer of songs, stories and poems; and a Golden Globe winning actor. (And he counts his best friends as the Highwaymen–Johnny Cash, Willie Nelson and Waylon Jennings.) At the risk of fawning, Kristofferson is the convergence of body and mind; the physical and the intellectual. If you've ever heard him speak, you quickly realize he's likely smarter than you. And even though you probably acknowledge that he can kick your ass, you also probably have to admit that he's more sensitive than you, too. At least more poetic. It's as if the Bushido tradition, the way of the warrior–samurais–took the form of a Cowboy with a penchant for smoking pot, drinking whiskey, bloody knuckles, beautiful women, flying, writing poetry, raising children and waxing philosophic on all things life somewhere on a beach in Hawaii.
Somehow he manages to control both the unforgiving tough-guy and the bleeding-heart family man in a single existence. Maybe it's his ability to navigate these two conditions–the warrior and the poet–that enables him to so closely dissect the human condition. He understands not just what other people are thinking, but what they're not thinking, as well. We're composed of these idiosyncratic thoughts and emotions that define us uniquely without our ever really grasping the definition. But somehow he does.
"Sunday Morning Comin' Down" is important for that very reason. Describing the wrong turns a life has taken, it's not a country song about beer-soaked blues for the sake of, well, beer-soaked blues. It's the story of a man examining his station in life, seeing what is in contrast to what could've been. And that's a scenario all of us have encountered, even if we're not having beer for breakfast and another for dessert. The song is also important because it is, very specifically, why this Cowboy Poet landed on our radar. Certainly, he had a few of his songs record before this, if less popularly. And even Ray Stevens had recorded "Sunday Morning" before Johnny Cash ever did. Not to mention, Janis Joplin–Kristofferson's one-time girlfriend–recorded his "Me and Bobby Mcgee" just days before she died. So, it's not as if this song is solely responsible for his having a career, but it is the representation of what he would become: an extraordinary who walks among the everyman, arms locked in arms, carrying on in the good fight with us. words/ j crosby
Download:
MP3: Kris Kristofferson :: Sunday Morning Coming Down
MP3: Johnny Cash :: Sunday Morning Coming Down
Aquarium Drunkard is powered by our patrons. Help us continue doing it by pledging your support via our Patreon page.