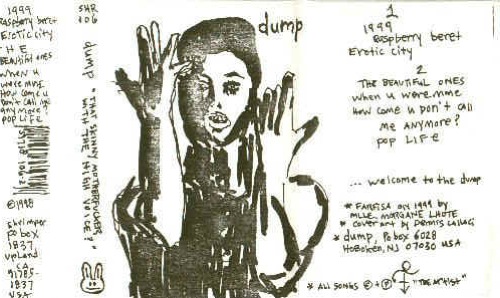 Last week Matador Records treated Yo La Tengo fans to "Periodically Double Or Triple," the first single off the band's upcoming September release, Popular Songs. If you've been following along the past few months than you're well aware of our sincere appreciation for YLT's other project, that of fictional garage rock revivalists Condo Fucks. But this post is neither about Yo La Tengo nor Condo Fucks, this is about Prince — well, to a point it is, anyhow.
Like Ciccone Youth's the Whitey Album before it, That Skinny Motherfucker With The High Voice? is the sound of an underground take on the highest of mainstream pop culture. Whereas Sonic Youth was inspired by the inescapable oeuvre of 1980s Madonna, here Yo La Tengo's James McNew lovingly runs through a selection of Prince songs. Think of it as a four-track, home-recorded, homage of sorts. The individual tracks range from the acoustically strummed to churning electric guitar backed by distorted ambiance with programmed laptop beats.   The reason Skinny Motherfucker works, bypassing senseless pastiche, is that it's immediately evident McNew is a fan of The Artist. Would the majority of Prince fans 'get' this? Most likely not. Would YLT/Prince fans 'get' this. Absolutely. Originally released in 1998 on cassette, the collection later saw a compact disc release in 2001 with five additional tracks. Those interested in the origins of the Skinny Motherfucker project can read our April interview with McNew, HERE.
The title That Skinny Motherfucker With the High Voice?, comes from the Prince song "Bob George" (from The Black Album) in which Prince assumes the identity of a cursing, gun-wielding alter ego who murders a woman while dismissing himself as "that skinny motherfucker with the high voice."
Aquarium Drunkard is powered by our patrons. Keep the servers humming and help us continue doing it by pledging your support via our Patreon page. Only the good shit.