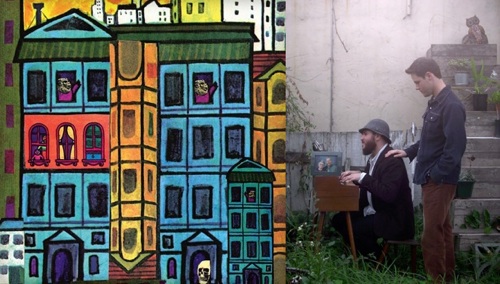 (Diversions, a recurring feature on Aquarium Drunkard, catches up with our favorite artists as they wax on subjects other than recording and performing.)
Subtracting JV's entry on Bay Area Side Trips, thus far the majority of the artist selections for Diversions have had to do with music.   Today is no exception.   On July 21st San Francisco's Skygreen Leopards return to retail shelves with the   Gorgeous Johnny LP; a low-key album that should resonate with any fan of psychedelia tinged folk-pop.   Below the group list their 'Top 5 Best Looks for Musicians.'
+ + + + + + + + + + + + + + + + + + + + + + + + + + + + + + + + + + + + + + + + + + + + + + + +
Our new record is named after Gorgeous Johnny, a suburban kid who fancies himself a well-dressed boy-about-town. He travels to the big city to find fame & fortune, leaving a trail of heartbreak & confusion along the way. As a tribute to Johnny's eye for fashion, we have compiled a list of whom we consider to be some of the best dressed gentlemen in rock history. This is by no means comprehensive, but these artists' styles are near & dear to us. (in no particular order):
1. Creedance Clearwater Revival :: Our mention of CCR hinges on Fogarty's groundbreaking use of the flannel which no doubt influenced Neil Young, The Boss & countless Seattle bands, but he put an absurd twist on the workingman rocker-look by tucking his plaid into his leather pants. No one has attempted this since.
2. Bryan Ferry :: We don't think much of his early days as a glitzy drag queen Elvis (as fun as that can be), but around Sirens his look starts to get tighter when he dons   that quasi-fascist khaki uniform with Roxy Music emblem on the sleeve, which then segues into his ongoing role as a dashing 1940's international playboy.

3. Grateful Dead (early) ::   This was maybe the first true misfit hodge podge band, & the one that made it the farthest without any good looking members. These guys were uglier than the Stooges, except for maybe Bob Weir, who looked like a pretty girl. Witness their early attempts at almost mod-ish fashion, striped shirts & rakish hats. Notable gear: Pigpen's Waffen SS Nazi badges, Garcia's ill-fitting skinny jeans & Lesh's grotesque paisley shirts. In the early 70's they adopted the California Cosmic Cowboy look (see also Byrds etc.) which worked out pretty well, but it falls apart pretty soon after that. Jerry always kept his dignity with beard & black t-shirt n'jeans combo, but Phil discovers tube socks & Bob accumulates Izods & cut-offs that leave nothing to the imagination. Drummers Hart & Kreutzman generally favored tie die n' sweatbands, unfortunately.   R.I.P. JERRY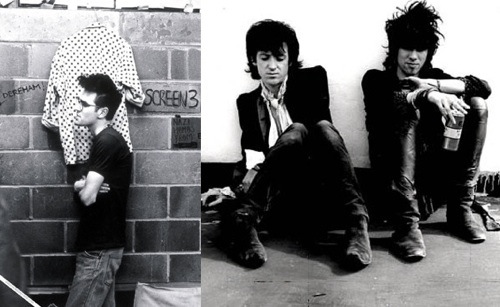 4. The Jacobites :: Scarves, scarves, red wine & more scarves. Nikki Sudden's post-Swell Maps duo with fellow scarf obsessed weirdo Dave Kusworth, must have spent as much time on their wardrobe & photo shoots as they did on their music. Fine with us. Equal parts Ronnie Lane, Keith Richards & 18th Cent. French libertine, Jacobites sang of a "black velvet jacket & a hat of antique lace". In fact a Jacobites comp was titled Lost in a Sea of Scarves. R.I.P. NIKKI
5. Morrissey :: MOZ! The hearing aid worn on Old Grey Whistle Test, the bouquets of flowers jammed in his back pocket, cardigan sweaters, gangster suits, the ever-present quiff, need we say more? He still rips his shirt off & throws it into the crowd at age 50.
Download:
MP3: Skygreen Leopards :: Johnny's Theme
MP3: Skygreen Leopards :: Dixie Cups In The Dead Grass
—————
Amazon: Skygreen Leopards – Gorgeous Johnny
+ Download Skygreen Leopards via eMusic's no risk 25 Free MP3 trial offer.
—————————————————————————————————————————–