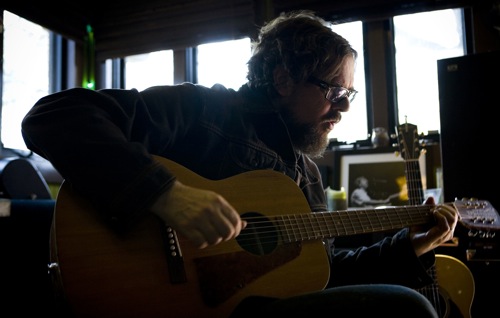 (Diversions, a recurring feature on Aquarium Drunkard, catches up with our favorite artists as they wax on subjects other than recording and performing.)
Murdering Oscar, the long delayed follow-up to Patterson Hood's 2004 solo debut, Killers And Stars, will finally see the light of day June 23rd. Unlike the sparse, home-recorded, Killers And Stars, Hood's new collection finds him in familiar company backed by Dave Barbe, Centro-matic's Will Johnson and Scott Danborn, his father, the famed Muscle Shoals musician David Hood, as well as his DBT bandmates. In this edition of Diversions, Hood reflects on the musical going's on in the back lounge. A noted voracious music fan with eclectic tastes, below Hood waxes on everything from the Clash to Syd Dale.
+ + + + + + + + + + + + + + + + + + + + + + + + + + + + + + + + + + + + + + + + + + +
When on tour, I spend the majority of my time in the back lounge, in what is sometimes jokingly (?) referred to as my office but not to be confused with my actual office, which is the little room in the back of my house where I spend a disproportional amount of time when I'm at home.
Both are very small areas (the one in my house is only slightly larger although much less densely populated). The one on the bus has the constant comings and goings of five other bandmates, five crew members and whatever guests make it past the middle section. At my office at home the comings and goings are usually my four year old daughter who is a staunch record critic and is very opinionated and eager to share such information with her old dad. She loves The Clash and The Kinks and Centro-matic (which she calls "My Will Johnson"). She loves Punk Rock and hates rap except for Outkast, who she loves. Don't think she shares my enthusiasm for PJ Harvey and John Parish's new album but she absolutely loves Dolly Parton.
The music on the back lounge leans heavily towards what Shonna refers to as "Sweet Soul Music" with a heavy emphasis on Muscle Shoals and Memphis. Some days we go in different directions, especially during the day hours when the cast and crew of the back lounge is an ever changing shape. By nature and bus design, the front lounge has the TV on (at least during the day) with a heavy emphasis on news, Comedy Central or today a Land Of The Lost Marathon. The back is almost exclusively devoted to music (hence, my being back there most of the time).
As The Pogues segues into Eddie Floyd attitudes and altitudes are adjusted. Outside was hot and muggy until a sudden rainstorm cooled it down to match our air conditioned comfort except for the Alabama humidity outside. A rare Syd Dale song comes on ("Number One Spy") and the discussion turns on Sacha Baron Cohen's new movie. An incredible scorcher by Ruby Brown ("When My Love Comes Down") accompanies a discussion of when Tom Dowd corrected the tape head alignment at Stax Studio (possibly the day that Rufus Thomas recorded "Walkin' The Dog") and Bowies "Aladdin Sane" plays as Neff comes in to tell me not to touch the catering (cold beans and bad BBQ) but to opt instead for the food out front and a decent Greek plate he found out there.
In a little while we will get on stage and play The Rock Show. That much is different every night and almost always manages to give me something new. Times are hard and I have the best job on earth and work really hard at always delivering rain or shine. A festival in Enterprise AL is just as important as a cool old theatre in New York City (and how I love New York City) or a kickass venue in Seattle. The people inside (or outside) each paid just the same to be there. In New York they chose us over a multitude of other viable options for their evening out. In Enterprise, really good Rock Shows don't happen every week and it's part of our job to show the importance of such. I grew up in one of those towns and had my life saved by going to some pretty mediocre rock shows (and a handful of soul shaking amazing ones) and twenty four years into doing this as my full time job (even though that was supplemented by a dozen or so day jobs that I worked for the first eighteen or so of those years) I still get the same rush from it. Fuck the jaded. Life's too short.
As I finish this, Hank Williams' "My Son Calls Another Man Daddy" comes on. The sun is coming back out and my friend Luther is coming over to hang out soon. Time to switch from coffee to beer and begin the countdown to Rock-O-Clock. words/ Patterson Hood (3:35pm CST, June 5th, 2009 – Enterprise AL.)
Download:
MP3: Patterson Hood :: I Understand Now
—————
Pre-order: Patterson Hood – Murdering Oscar (And Other Love Songs)