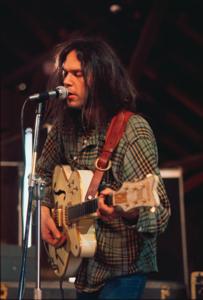 Here's the thing about the first installment of Neil Young's Archives project: only the obsessive will care, and with the (variable) price point, care enough to pony up the cash to purchase.   This was never intended to appeal to the casual fan and/or newbie.   Now that alone isn't revelatory, but when one considers the amount of previously released material included, and how long the archives have been in the works (and repeatedly delayed), it is understandable how its release has come off as anti-climatic in some fan circles. Granted some of this derision is splitting hairs, but I also believe some of it is due to the information age we find ourselves in versus had the set been issued, say, 10-15 years ago. The enormous online proliferation of bootleg recordings and videos, and the relative ease of obtaining them, has in turn rendered the archives less essential.   Not entirely de-fanged, mind you, but much less engaging than it would have been prior to YouTube, P2P, blogs, bit-torrent, etc.
So, with that caveat out of the way, let me slip in fan mode and state for the record that the (DVD version) is pretty fucking great.   A notoriously uncompromising artist, Young has created an archival project grander in depth and scope than most anything seen before related to music.   It's obvious the curation of the set was painstakingly labored over with every attention paid to detail.   Those who want to get their hands dirty in the minutiae of it all are sure to be kept entertained for days (weeks?) on end with never before seen photographs, old lyrics sheets, notes, concert footage and interviews.  It is simply a massive undertaking.
Broken up into various eras the discs span Young's early days in Canada, busking acoustically and with The Squires, following him on down to California hooking up with Buffalo Springfield, CSN&Y, Crazyhorse, and of course solo.   Completests will immediately notice the addition of tracks already widely available on other box sets (e.g. the Springfield), but having the material presented here in this Neil-centric universe feels like a nice fit.  Again, you can't please everyone.  Having said that, my hopes are that the next volume of the archives do not include entire discs of previously released material (Live at Massey Hall, Live At Fillmore East), and instead focus on rarities such as the still un-reissued Time Fades Away album.   Now that there is a working blueprint for the layout of the archive releases, the possibilities for the depth and breadth of future content is pretty exciting. We shall see.
It is also worth noting there are options available for those uninterested in the aforementioned minutiae found on the DVD/Blu-ray editions.   An audio-only version of the archives is available as a CD package as well as through various digital distributors.   This digital availability should especially appeal to those who have previously purchased Neil-related sets who simply looking to round out what they are missing.   Below are a couple of favorites; one track you'll find in the archives set and one you won't. And if you haven't seen this video, do so immediately
Download:
MP3: Neil Young :: Medley: The Loner/Cinnamon Girl/Down By The River (4 Way Street)
MP3: Neil Young :: Cowgirl In The Sand (3.6.70)
————-
Purchase: Neil Young's Archives :: Vol. 1: 1963 -1972
+ + + + + + + + + + + + + + + + + + + + + + + + + + + + + + + + + + + + + + + + + + + + + + + +
+ Download DRM free digital music via eMusic's no risk 25 Free MP3 trial offer.
—————————————————————————————————————————–