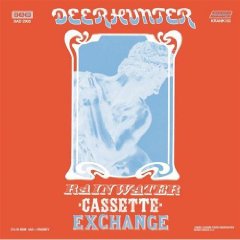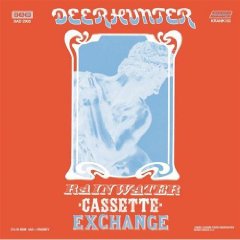 Not convinced by the tough beauty of Deerhunter's stellar Microcastle/Weird Era Cont?   Atlanta's finest keep getting better with the Rainwater Cassette Exchange EP.   Like its predecessor, Rainwater sinks into the ends of pop music and pulls, stretching the textures of surf, punk, and dream-pop into a hazy, hard-to-recognize fever dream.   But where Microcastle allowed Bradford Cox and Lockett Pundt to stretch their guitar muscles, Rainwater centers on more traditional melodies and structures, sacrificing power for gauzy takes on island rock and Strokesian garage (seriously).
Rainwater's winner, though, is its closer, "Circulation."   Cox and Pundt soothe out their trademarks in harmony over a few banged out chords before the track devolves into some serious melody-crossing and radio-sampling, like some smiley version of Wilco's "Poor Places."   There are twinkling stars and French FM static.
While not as powerful as Microcastle closer "Twilight at Carbon Lake," "Circulation" shows Deerhunter more able to build drama without relying upon sheer noise–not to mention the group's steadily increasing facility with the studio.
EPs are sometimes tossed-off, inessential time-fillers, little gap-holders that allow bands to work out any bugs and shake up their formulas.   And while Deerhunter have certainly served plenty of that on their blog, "Circulation" shows that they're far from stuck between stations. words/ m. garner
Download:
MP3: Deerhunter :: Circulation
————–
Amazon: Deerhunter – Rainwater Cassette Exchange
+ Download Deerhunter via eMusic's 25 free MP3 no risk trial offer
——————————————————————————————————————————