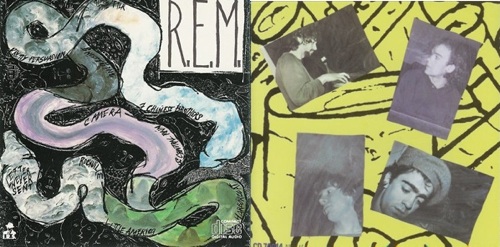 "Reckoning was a chance to turn up the volume, tear up the rule book, and instead capture R.E.M.'s on-stage mojo." – Don Dixon (producer, Reckoning)
My relationship with Reckoning began roughly twenty years ago via a dubbed cassette copy I recorded off my friend's older brother's vinyl LP.   The flip side of the tape was Lifes Rich Pageant.   I still have the cassette, the sleeve's paper yellowed and stained, with the track titles written in the hand of a 13 year old boy.   The red ink is a bit smeared and runs in places, and the cassette itself sounds a bit warped and thin.   It is seasoned in the way only an album that has been played hundreds of times, in hundreds of places, can be.   To say that my "getting into" R.E.M. at the beginning of my teenage years was revelatory would be an understatement.   This was, after all, the late eighties in suburban Atlanta.   Prior to this my musical diet primarily consisted of my parents record collection, whatever was on the radio, some Guns 'n Roses (Appetite), Beastie Boys (Licensed To Ill), Run DMC (King of Rock) and select bargain bin finds like Zeppelin, and other 'classic rock' staples.   Looking back, IRS Records-era R.E.M. was an absolute gateway band.   It wasn't long before my tastes expanded and I ditched the music of my parent's generation (well, for a few years anyway) quickly getting my hands on everything I could find by the Pixies, Smiths, Devo, the Cure, and Violent Femmes.   The majority of this purloined by said friend's older brother's collection and dubbed to cassette.
Lately I've been listening to, and thinking about, early R.E.M. quite a bit; partly in response to this latest batch of reissues.   Besides the obvious classic rock touchtsones (Beatles, Stones, etc) there are not many albums/artists that I still consistently listen to that I discovered at age 13.   For example, those Dead Milkmen tapes I bought at Turtles Records & Tapes in Dunwoody Village, as nostalgia inducing as they may be, rarely get broken out.   Same goes for The Hoodoo Gurus and that first Lenny Kravitz record.   But album's like Reckoning are different.   Album's like Reckoning — well, they are truly works of art.   And like any art form you develop a connection with, whether a painting or film, it can be taken in again and again.   And like all good art, you take something different away from it each time, in every different circumstance you find yourself listening.   The tell-tale sign of a classic if there ever was one.
And what to say about the actual contents of Reckoning?   Like Murmur before it, it's the sound of a young R.E.M. all covered in southern humidity, kudzu and innocence — mumbled vocals, indiscernible lyrics, and ringing Rickenbacker's — in essence, a perfect R.E.M. album.   It is 1:03 a.m. as I type this and, coincidently, I am boarding a flight from LAX to Athens, GA in the morning for Athfest 2009…and as Stipe sings "It's been pretty simple so far, vacation in Athens is calling me."
Reissue Specs: The two-CD deluxe edition of Reckoning features the original album remastered plus a bonus disc of a previously unreleased concert recorded during the band's Little America tour at Chicago's Aragon Ballroom on July 7, 1984 and broadcast on WXRT. On the Deluxe Edition's bonus disc, the group performs eight of Reckoning's ten songs, "Gardening At Night" from 1982's Chronic Town EP and "Radio Free Europe," "9-9" and "Sitting Still" from Murmur but also new songs that had yet to make it onto tape: "Driver 8" would later debut on R.E.M.'s third album and "Hyena" on its fourth.
—————-
Amazon: R.E.M. – Reckoning (Deluxe Edition)
+ + + + + + + + + + + + + + + + + + + + + + + + + + + + + + + + + + + + + + + + + + + + + + + +
Pavement :: Unseen Power of The Picket Fence
"Time After Time Was My Least Favorite Song…" – Unseen Power of the Picket Fence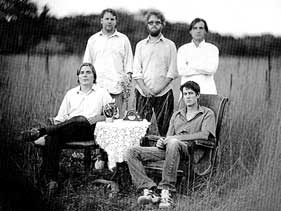 One of my favorite takeaways from the 33 1/3 installment on R.E.M.'s debut, Murmur, was author J. Niimi's acute acknowledgment of Michael Stipe's non-linear lyrics, lyrical style and delivery; and how they shaped the next generation of musicians in a genre that would become known as "indie rock" – – in particular, Pavement.   This struck a chord, as when I first discovered Pavement, one of the immediate touchstones was that of Stephen Malkmus' pointedly casual delivery, and his abstract use of lyrics cloaked in, what to these ears felt like, Stipe-isms. I was hooked. More than hooked, actually.
Like Stipe before him, Malkmus has, throughout the progression of his career, moved on to more straightforward lyrical songwriting, and while I'm still an enormous fan, there is something special about the days (of both bands) when you had little clue about what the vocals were trying to impart, or hell, for that matter, even (at times) what the actual words were. I've gracefully mumbled my way through many an R.E.M. & Pavement tune, only to years later realize I was completely off base, both lyrically and content wise.
Here is Pavement's ode to R.E.M., "Unseen Power of the Picket Fence," in which Malkmus, working his way through Reckoning's song titles, informs us that "Time After Time Was (his) Least Favorite Song." FYI, "Picket Fence" can now be found on the Crooked Rain, Crooked Rain reissue.
Download:
MP3: Pavement :: Unseen Power Of The Picket Fence
———
Amazon: J. Niimi – R.E.M.'s Murmur (33 1/3)
+ Download Pavement via eMusic's 25 free MP3 no risk trial offer
——————————————————————————————————————————