(Sevens, a recurring feature on Aquarium Drunkard, pays tribute to the art of the individual song.)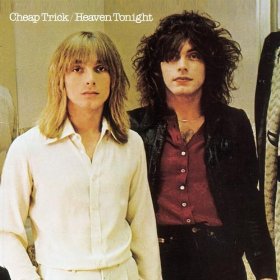 We spend a lot of time discussing the elements of the music that moves us, whether it's lyrics or instrumentation. However, at a certain point, there is an ineffable quality about the music we like that affects us in ways we cannot describe. One of the musical structures that is often hardest to describe is the idea of resolution. You don't have to know anything about how music is structured to feel and hear resolution, but you may be hard pressed to describe it once you do. Long story short, resolution is the perceived 'need' that a listener has for a note or chord "to move from a dissonance (an unstable sound) to a consonance (a more final or stable sounding one)." It's something we often hear, but cannot always describe.
No one would ever accuse Cheap Trick's Rick Nielsen of not being a smart musician, but it's always exciting to hear the 'low art' of pop music making use of a truly classical tool. "Surrender," arguably Cheap Trick's most well known song, uses resolution to hook listeners as it shifts from verse to chorus to pre-verse and back to the verse. My first few times really listening to "Surrender" were a bit disjointed. The song builds through its parts, not providing any sort of resolution until the 3:08 mark. The chords that are played at this point provide a connection between choruses that had been denied by the pre-verse.
It's this use of resolution that begs for listeners to keep their ear to the song, and when the solution to the song's discordant puzzle is finally offered, it's like a burden being lifted. It leaves the listener hooked and eager to be taken through the blows again. The song's addictive chorus doesn't hurt, but truly it's something deeper that makes the song worth returning to again and again. Good one, Rick. words/ j. neas
Download:
MP3: Cheap Trick :: Surrender
MP3: Cheap Trick :: Surrender (outtake)
———