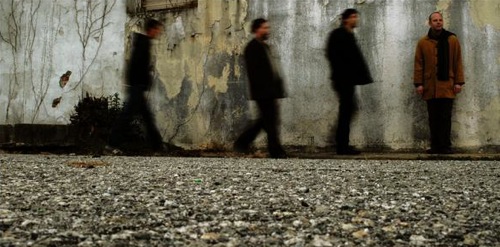 Off The Record is a recurring feature here on the Drunkard that marries two of my greatest interests; music and travel. Having a locals perspective when visiting a new locale is the difference between experiencing it through the lens of a tourist and of that of a native.
Off The Record gathers some of my favorite artists, asks them to reflect on their city of residence, and choose a handful of places they could not live without – be them bookstores, bars, restaurants or vistas.
Thus far we've seen NC related entries in the Off The Record series from the Bowerbirds (Raleigh/Durham/Chapel Hill) and Benji Hughes (Charlotte), but a city that is often overlooked despite its historical significance (Battle of Guilford Courthouse; Woolworth Sit-Ins) is Greensboro. Located in the state's Triad region, Greensboro has created its own musical identity despite often residing in the shadow of Chapel Hill.
Below, Chris Jackson and Diego Diaz of Citified take us through some of the best spots to catch some of the character of Greensboro's music scene and the pulse of the city. These aren't your conventional tourist spots, but the places sometimes off the beaten path. Citified just recently released their third EP, Absence, on the Eskimo Kiss record label. It's another excellent release of shoegaze and jangle-pop inspired rock that is their most satisfying and diverse album yet.
* * * * * * * * * * * * * * * * * * * * * * * * * * * * * * * * * * * * * * * * * * * * * * * * * * * * * * * * * * * * * * *
College Hill Sundries: Located 2 blocks from the campus of the University of North Carolina at Greensboro, College Hill is Greensboro's quintessential neighborhood dive bar. Notorious for being one of the smokiest bars in Greensboro and housing possibly the most squalid lavatories in town, it also reeks character. Despite being a somewhat seedy dive bar, it's the regular haunt of a pretty broad mix of people that range all the way from college students and musicians to laid-back professionals. More often than not, this is the place to be during the week when other bars start winding down since things really just start getting going around midnight, particularly on Tuesday and Wednesday nights due to $1 domestic beers. Having the best foosball table in town with tournaments every other Sunday night also fosters a rather healthy foosball subculture (you definitely want the owner of the bar on your team as he has mad skills). And if you forget to bring your hazmat suit and the smoke starts getting to you, fortunately there's a big, open patio.
Square One :: Greensboro's independent music scene has seen its fair share of ups and downs over the decades, but always seems to manage to produce an eclectic array of original acts despite an overabundance of trendy dance clubs and professional cover bands. The venues for independent music have ranged from underground/illegal performance spaces (Trim Shop, Onion Cellar) to independent record stores (Gate City Noise) to neighborhood dive bars (College Hill Sundries) to proper clubs focusing on original music (The Flying Anvil). The common thread between these venues has been their support of local and national independent music and an ability to often book acts right as they are on the cusp of achieving international notoriety. Greensboro has seen the likes of then up and coming acts such as TV on the Radio, The Shins, The Avett Brothers, Of Montreal, Black Lips, Beirut, The Rosebuds, etc. (the list goes on and on) in insanely intimate settings. The latest venue in this tradition is a practice/performance space in the Glenwood neighborhood called Square One, which hosts several shows per month and has seen the likes of Beach House, Brightblack Morning Light, Dead Meadow, Love As Laughter, and King Khan & BBQ Show over the past year.
WQFS 90.9 FM (Guilford College) / WUAG 103.1 FM (UNC Greensboro) :: The only two presets in my car. If you're in town on a Wednesday evening, be sure to check out our favorite radio show, J's Indie/Rock Mayhem from 6-8pm on WQFS 90.9. This guy is pure energy, charming and will hit you over the head with some of today and yesterday's best music (Animal Collective and the Happy Mondays back to back, hell yeah.)…never a dull moment with special on-air performances. Still in town Sunday night? Tune into WUAG 103.1 at 8pm for Radio Greensboro. This show features a different band playing live each week with q&a session, mainly locals with an occasional national coming through. David Row's your man.
The Green Bean :: A cornerstone of the newly revitalized downtown, this coffeehouse offers a great selection of beer and wine and hosts a diverse range of local, regional and national talent. Early shows, usually over by 11pm, makes it the perfect stop on the way to other bars. Weekly trivia, monthly art exhibits, occasional movies, you get the idea. Mid-size, make-shift performance area, unique room. Friendly. Smoke free. Located in the heart of all the action. Norm McDonald was spotted there recently, not sure what that means.
The Dot Matrix Project / Harvey's Kitchen :: Two entities giving Greensboro a web presence. The Dot Matrix Project hosts free monthly performances at the Green Burro (across from the Green Bean) showcasing local bands which are filmed, photographed and recorded on a volunteer basis. Always an event, bringing together the who's who of the Gate City. Harvey Kent Robinson of Harvey's Kitchen uses his kitchen as the performance/interview space for a number of local/regional bands, actors, DJs, writers, etc. Professionally filmed/edited, this site is helping catapult Greensboro into the national spotlight. The Harvey's Kitchen series was also recently named by Paste Magazine's website as one of the best websites for out-of-context concerts. Check it out.
Pizzeria L'Italiano :: This New York style pizzeria on Elm St. in downtown Greensboro serves up probably the best slices in town, but also offers some pretty hilarious people watching. On Friday and Saturday nights, the entertainment starts right around 2:00 AM since they stay open extra late (3:00 AM) to cater to all the hungry, drunken clubbers stumbling out of the various dance clubs on Elm St. The key is to get there a few minutes before 2:00 AM to beat the line running out the door, get a good seat, and watch the 'show.'
Download:
MP3: Citified :: Founded
————-
Amazon: Citified – Absence (EP)
+ Download DRM free digital music via eMusic's 25 free MP3 no risk trial offer
——————————————————————————————————————————