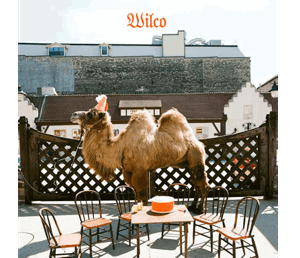 Starting with "Wilco (The Song)," which sounds like an upbeat inverse of the Velvet Underground's "I'm Waiting for the Man," Wilco announce their intentions quickly on Wilco (The Album).   "Do you dabble in depression?" Jeff Tweedy asks, and it's not the question itself that's new for Wilco–far from it–but the fact that there's an answer that comes with it.   "Wilco will love you, baby," he sings before hand bells ring over Nels Cline's moaning guitars.   Put simply and quickly and reductively, Wilco (The Album) is one of the greatest breakup albums of all time, in no small part because it's the sound of Jeff Tweedy forever divorcing himself from the darkness, paranoia, and cynicism to which he's subjected himself since at least Summerteeth.   Ain't no wallowing around here.
The early A.M. aside, Wilco have never been a predictable band.   While some (i.e., many) would have preferred Tweedy and his group to continue to stare into the smoke of 2001's quietly epic Yankee Hotel Foxtrot, the Chicago sextet has instead moved into a new Americana, an Americana drenched in the feedback loops of the times but increasingly optimistic that there is a light somewhere, at some point, in some sort of eventual time.   YHF is, of course, considered the group's masterpiece and, once the decade is said and done, will assume a place very near the top of the Best Of The 00's.   But as the group has matured and evolved, Tweedy has grown more comfortable in his faded jeans, dialing down the migraine duplicates in favor of more traditional song structures, melodies, and themes.   Wilco (The Album) continues in this trend, almost to the point of making the infamously morose singer unrecognizable.   As such, there are words all over Wilco (The Album) that seem almost out of place–words like "blessing," "Jesus" (as in the name, not the swear word), "love," "Dear," and, most tellingly, "you."   All of these are sung with varying degrees of conviction, sure, but it's hard not to believe the bullet-taker rock of "I'll Fight" or the fuzzy solos of the aptly-named "Sunny Feeling."
Which isn't to say that Wilco have gone all soft rock.   Those who lobbed the idiotic and immature "Dad Rock" label at Sky Blue Sky will be appeased by the nervy teenage guitar dreams of "Bull Black Nova," which builds something between "Impossible Germany" and Television's "Venus."   "You Never Know" is simple and perfect pop rock that pokes at the aforementioned cultural catfighting. Tweedy prods at his listeners, telling them that they're acting like children and adding later, "act your age, go back to black metal and perms."   It's grinny advice to not take oneself too seriously, to make room in one's life for play.   Have some fun.
Because, really, that's the reason that all of your favorite bands started making music, at least in the very very beginning.   Wilco (The Album) not only succeeds but stands near the top of Wilco's extremely distinguished catalogue not because it Has Something To Say but because it's not afraid of its own shadow.   It's just six dudes making cool music, allowing themselves to smile and relax a bit, realizing that the obsession with the darkness isn't some sort of special burden affixed by God to The Artist, but rather the consequence of The Artist's obsession with himself.   "Once I thought the world was crazy / Everyone was sad and chasing / happiness and love and I was / the only one above it," Tweedy sings in "Solitaire," sounding something like Elliot Smith fronting The Band.   "I was cool as gasoline…It took too long to see / I was wrong to believe / In me only."   This same theme is picked up in "You and I," in which Tweedy duets with Feist, whose smoky vocals highlight just how lonely Jeff Tweedy–and, by extension, most contemporary indie rockers–typically sound.   Rather than wallow in the obscure anti-passions of past records, Tweedy is moving towards and becoming comfortable with the classical emotions of love, happiness, and comedy.   And here's the truly weird part: he seems to have found something in them.
Wilco (The Album) will not win the accolades of Yankee Hotel Foxtrot, because it does not speak the same language.   YHF, brilliant though it is, offers its listeners little in the way of challenges, allowing the paranoid yuppies to keep staring, keep staring, keep staring, into the mirrored windows of their tall buildings.   Wilco (The Album) refuses to settle for such mediocrities–both from itself and its audience–and is the more courageous album for it.   And if the sound of six of the world's best musicians banging out spangled and bejeweled pop-rock doesn't get you off, then you may want to reconsider your record collection.   words/ m. garner