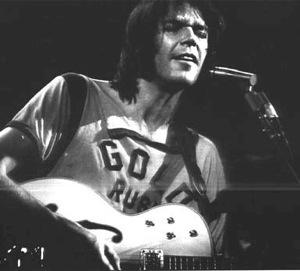 In the spirit of the residual frenzy surrounding the release of volume one of Neil's archives, we continue with the Neil Young reposts.   Below is part 1 of 2, of Volume II, of the Perfect Echo compilation chronicling the years 1978-1984. Stay tuned for part two.
——-
For those interested in the back story, here are notes on the series via sharing the groove:
"Braden Strickler has done it again. He's compiled and lovingly mastered, almost exclusively from soundboard recordings, an 8-DISC SET which runs chronologically from August 1967 to January 2001. It's like an expanded version of the "Rock 'n' Roll Cowboy" concept, but with far superior sound.
This is a compilation of soundboard recordings from 1967-2001. The term soundboard is a bit of a misnomer. By soundboard I mean, basically, not an audience recording. Some are true soundboards, while others are FM, TV, ALD, or video-sourced recordings. The recordings were all taken from cdrs or videos that are circulating in the trading community. There are a total of 115 tracks (109 songs, as 6 get repeated). Some years were heavy with available recordings (1976 and 1989 come to mind). I tried to balance the set by not using too many songs from a single show. The entire 8 discs run in, roughly, chronological order.
+ Tracks removed per Neil Young's attorney's request……
DOWNLOAD:
MP3: Neil Young :: Thrasher (san francisco, ca, 22-oct-1978)
MP3: Neil Young :: Little Thing Called Love (berlin, germany, 19-oct-1982)
MP3: Neil Young :: Old Man (berlin, germany, 19-oct-1982)
MP3: Neil Young :: Transformer Man (berlin, germany, 19-oct-1982)
MP3: Neil Young :: Sample And Hold (berlin, germany, 19-oct-1982)
MP3: Neil Young :: Don't Be Denied (dayton, oh, 18-sep-1983)
MP3: Neil Young :: Barstool Blues (santa cruz, ca, 7-feb-1984)
MP3: Neil Young :: Touch The Night (santa cruz, ca, 7-feb-1984)
MP3: Neil Young :: Inca Queen (1974)
MP3: Neil Young :: Tonight's The Night (santa cruz, ca, 7-feb-1984)
MP3: Neil Young :: Comes A Time (austin, tx, 25-sep-1984)
MP3: Neil Young :: Southern Pacific (austin, tx, 25-sep-1984)
MP3: Neil Young :: Down By The River (austin, tx, 25-sep-1984)
MP3: Neil Young :: Heart Of Gold (austin, tx, 25-sep-1984)
MP3: Neil Young :: Flying On The Ground Is Wrong (new orleans, la, 27-sep-1984)
——————


Neil Young & The Band :: Helpless (The Last Waltz, November 25, 1976)
www.neilyoung.com ++ www.hyperrust.org
+ Download DRM free digital music via eMusic's 25 free MP3 no risk trial offer
——————————————————————————————————————————