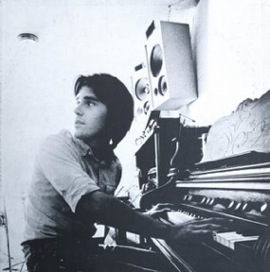 The first time I heard Emitt Rhodes self-titled debut LP from 1970 I must have listened to it, and it alone, for a straight for a week.   It's that kind of album.   Recorded in Rhodes' home studio the album is a near perfect piece of unabashed McCartney influenced pop.   Recording to four track tape, writing all of his own material and playing all of the instruments, the album has that indescribable intimacy that can rarely, if ever, be consciously reproduced.
After three LPs the Emitt Rhodes story becomes half-legend, half cautionary tale.   The story goes the artist had trouble with his record label, which ultimately led to his dropping out of the music business altogether.   Numerous tales and explanations exist, but his wiki sums it up as the following: Rhodes' contract with Dunhill Records called for "a new LP every six months (six albums over three years) — a schedule that was impossible for Rhodes to meet, due to writing all of the songs and recording each instrument and vocal individually by himself. Dunhill sued Rhodes for $250,000 and withheld royalties because of his failure to deliver albums on the timescale required by the contract. Emitt Rhodes took nearly a year to record, Mirror took nine months, and Farewell to Paradise took over a year."
Thanks to Hip-O Select, the popsmith's entire collected works are now available via a two disc, 48 song, package entitled The Emitt Rhodes Recordings (1969 – 1973).   I cannot recommend this collection enough, as the albums these tracks are culled from have long been out-of-print.   Think McCartney, think Nilsson, think Rhodes.
Download:
MP3: Emitt Rhodes :: Long Time No See
MP3: Emitt Rhodes :: Somebody Made For Me
————-
Amazon: The Emitt Rhodes Recordings (1969 – 1973)
+ Download DRM free digital music via eMusic's 25 free MP3 no risk trial offer
——————————————————————————————————————————