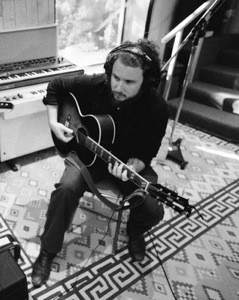 Last week I was working on an acoustic-based folk playlist for my show on SIRIUS/XM.   Halfway through I wound up scrapping it as my mood changed, and if music is anything it is mood. The second track, following The Tallest Man Alive, was Jim James' cover of the Beatles "Long, Long, Long" which was just released this week on Tribute To, his tribute to the late George Harrison.
Recorded in 2001, and released under his Yim Yames alter-ego, the Tribute To EP features six tracks, including "Long, Long, Long," "Behind the Locked Door," "Love You To," "My Sweet Lord," "Sir Frankie Crisp (Let It Roll)," and "All Things Must Pass."
An excerpt from James' notes on the genesis of the project: "The following are a selection of George's songs I recorded back in 2001, a few days after he passed that were moving me so very much at the time… I recorded them live at above the Cadillac in Shelbyville, KY… On my cousin John's "ol faithful" Fostex 8 track reel2reel, then overdubbed a banjitar or b. vox here or there. I find comfort knowing that all things must pass, but that as all things do pass their spirits are still out there moving us somewhere… doing what they do, just as real as they ever were in this physical world…I hear them singing and I feel them in my blood."
The proceeds from the sale of Tribute To will go to the Woodstock Farm Animal Sanctuary.   Stay tuned for news of the upcoming Monsters of Folk release, not to mention that of a proper Jim James (Yim Yames) solo album.
Related: Jim James :: Off The Record (Louisville, KY)
Download:
MP3: Yim Yames :: Long, Long, Long
————
Purchase: Yim Yames – Trubute To
+ Download My Morning Jacket via eMusic's 25 free MP3 no risk trial offer
——————————————————————————————————————————