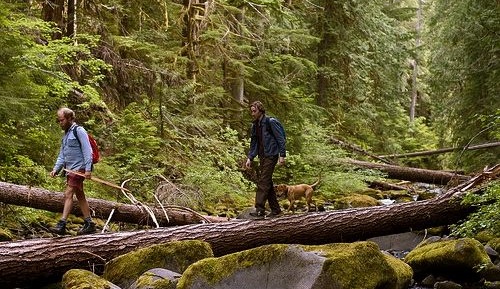 "If you build it, they will come," or in the case of Yo La Tengo, if they record it I will most likely eventually get around to listening to it — whatever the it may be. In this case, the it in question is a collection of tracks the group   scored for various films over the years (Game 6, Junebug, Old Joy, and Shortbus).  27 titles, including outtakes.   Instrumentals, the majority of the tracks contain those instant YLT signifiers that are immediately recognizable — an underlying presence that is something akin to an aural calling card. While the majority of the tracks are new, as in created specifically for the films, the faithful will note that several of the tracks have appeared, in various forms/arranglemts, on previous YLT albums. (e.g. a shortened version of "Spec Bebop" from I Can Hear the Heart Beating as One).
The bulk of the disc is comprised of selections from Old Joy and Game 6, and it was the score from filmmaker Kelly Reichardt's   Old Joy (see movie still above) that initially piqued my interest in the collection.  Also, for those keeping score of the OST omissions here, "Demons" from the soundtrack to Mary Harron's 1995 film I Shot Andy Warhol, can be found of the 1996 odds and ends compilation Genius + Love = Yo La Tengo. Press play; I'll take extra butter on my popcorn.
Related: Dump :: That Skinny Motherfucker With The High Voice?
Aquarium Drunkard is powered by its patrons. Keep the servers humming and help us continue doing it by pledging your support via our Patreon page. Only the good shit.