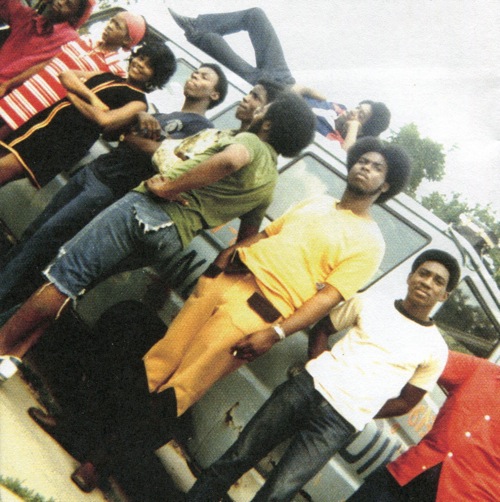 If I had an extra minute to spare I would seriously consider starting another blog focused strictly on covering the growing number of on-point reissue labels that have popped up the past several years.   One of these, a front-runner I must feature on AD close to six times a year, is the Chicago based Numero Group.   At this stage in the game, with the amount of stellar titles they've released, the label's reputation alone sets a precedent for quality even before you open the package and put on your headphones.   Next up at bat: the early seventies funk of 24-Carat Black — Gone: The Promises Of Yesterday LP.

I first happened across 24-Carat Black unknowingly, due to the heavy sampling of their music, and explicitly via a post over at Oliver Wang's Soul Sides blog.   His depiction of the group's sole release, Ghetto: Misfortune's Wealth, had me immediately digging for a copy (an easier task now that it's avail at eMusic).     The album is an essential listen for those interested in early seventies soul/funk/r&b.   Obscure in mainstream circles; well known to those who obsessively crate dig and/or hunt beats and grooves.   Numero Group is garnering a rep for its ability to pull rabbits out of hats, and this, the release of Gone: The Promises Of Yesterday is no exception. Listen to it, in its entirety, here on the Numero Group website.
And   if the title Ghetto: Misfortune's Wealth is new to you, do be sure to check out the "24-Carat Black Theme" and "In The Ghetto," both below.

Download:
MP3: 24-Carat Black :: Synopsis Two: 24-Carat Black (Theme)
MP3: 24-Carat Black :: Synopsis Two: In The Ghetto
————-
Purchase: 2-Carat Black – Gone: The Promises Of Yesterday
+ Download 24-Carat Black via eMusic's 25 free MP3 no risk trial offer
——————————————————————————————————————————