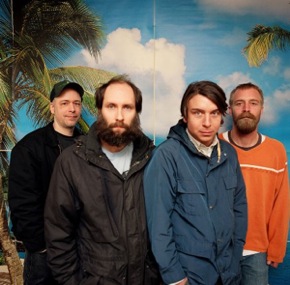 J. Neas here reporting from Chicago. I'll hand it to Pitchfork – they know how to get a crowd invested in the opening night of a festival. Whether it's been the previous years' Don't Look Back-style album performances or this year's Write the Night theme, they have guaranteed to have an audience who is looking forward, intensely, to what's going on on stage. The opening night of this years fest was no different.
They also know how to pace the evening and it was wise to open the festival with a performance by Tortoise. As I tweeted, I wasn't sure whether it was my only passing knowledge of the band's work or whether it's just harder to remember the titles of instrumental pieces, but either way this was a slow way to start the festival. The audience response was solid, but not gigantic. No one was like David Sedaris' father shouting out requests for "Blue Rondo a la Turk" or anything. It was a gentle beginning.
So leave it to Yo La Tengo to turn up the heat. And whether it was through the gorgeous "Let's Save Tony Orlando's House," the incendiary "Cherry Chapstick," a bona fide classic like "Tom Courtenay," or the inspired segue of forthcoming-album track "Periodically Double or Triple" into "Mr. Tough," it was a spectacular performance that had the crowd responding much more enthusiastically. This was my third time seeing the band – my first electric performance since 2003 – and it was quite possibly my favorite as well.
The Jesus Lizard came roaring back to life next and the audience that was there to see David Yow and company truly were present. I spent a good chunk of the beginning of their set waiting in one of many lines at the festival, but could hear the roar and churn of the band easily from where I was standing. I'm not, personally, fully vested in knowledge of the band beyond a few songs here and there, so I wasn't really inspired, but for those who came to see them, it was obviously a treat. They even did an encore of two songs that ended with Yow surfing the audience, microphone in hand. Not too shabby.
There's a reason, though, that they saved a razor sharp band like Built to Spill for last. Doug Martsch knows how to structure a set, even when the songs are given to him, and plowing through classics like "Kicked It In the Sun" and "You Were Right," or relatively recent additions to the catalog like "Conventional Wisdom" and "Goin' Against Your Mind" (the latter of which was downright amazing, by the way), this was probably the night's best performance, nudging out even Yo La Tengo's thrilling set.
Judging by the roars of approval from the audience – and it's okay, Doug, that you ignored my two requests; really, it is – the Write the Night format was a pretty big success and it'll be really interesting to see how it plays out in the Flaming Lips' set on Sunday night. But until then, there's a lot more great music to be heard. See you Saturday.
Don't forget you can follow my exploits (and ramblings) live from the Pitchfork Festival on my Twitter.
+ Download DRM Music via eMusic's 25 free MP3 no risk trial offer
——————————————————————————————————————————