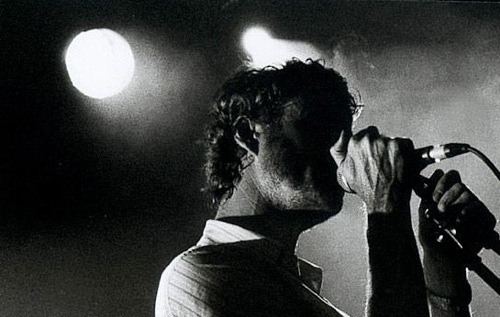 J. Neas reporting again from Chicago. After a bit of late start due to some brunch navigation around closed lines on the L, I arrived at the festival in time to catch Fucked Up. Having grown to enjoy the layered and complex post-hardcore of their recorded material, the live show was a bit simplistic, but still powerful – whether it was lead singer Pink Eyes, ripping beach balls open with his teeth or parading around with a sunflower tucked in his shorts, and his howling menace or the three guitarists, bass player and a drummer behind him pounding out the cadence for his barks. I'm still at a bit of a loss for why they need three guitarists on stage – I couldn't hear anything that lead me to believe much was going on that needed them all – but it was a powerful blast of a show and the front of the stage became somewhat of a pit for the first time all festival.
I had one serious worry about seeing the Pains of Being Pure at Heart. I saw them on some late-night talk show and had thought their performance was somewhat lacking. A bit low-key, not very loud, really not what I was hoping for out of a band that seemed to craft C86 music like nobody's business. But I was completely taken with their performance. It was catchy, loud, energetic and really one of the highlights of the festival. They did a giddy rush through of "Come Saturday" that had people dancing throughout the audience. Best comment, from lead-singer Kip Berman: "We got some great advice from Pink Eyes [of Fucked Up] – he told us we should sound more like Weezer."
Continue Reading After The Jump…
One of the unfortunate aspects of any festival is hearing some bands only from afar. Quickly, here are today's 'music from another room' thoughts: Final Fantasy – maybe I'd want to listen to this on my own, but is one dude and a violin on a main stage really that engaging? ; Ponytail – energetic, riotous and shouty. Meh. ; Yeasayer – I wish I'd heard more of them, as they sounded really rocking and had the audience hyped as well. ; Wavves – They were 20+ minutes late getting started (might not have been their fault, not sure) and I was at a bad angle to really hear much of anything, so I heard the first song and took off to get in place for Doom.
Doom was, honestly, a bit of a let down. Hip-hop, in a lot of ways more than most genres of music, feeds off of the energy that is more readily available in a smaller venue. On a main stage, it's possible to get a crowd going, but it takes work. Doom was technically precise, but pretty samey through most of the set. Which is not to say that it wasn't interesting, but is to say that I didn't worry too much about leaving early to get a better spot for Beirut, a band I'd seen before.
But that should tell you something about Beirut's live show. I've seen them twice now and have been knocked on my ass both times. Maybe it's just the thrill of seeing people really play and love on some not-so-typical music, but Beirut's performance was a model of people who obviously really enjoy what they're doing and how they do it. Dream tour pairing: Beirut and Josh Ritter. Those two consistently bring it when they're on stage in a way that few others do.
The big headliner tonight was the National, and even though I'd seen them a little over a month ago in a club setting and even though this set was largely similar, it was still a thrilling show. New song, "Blood Buzz Ohio," was a highlight. I tweeted about "Fake Empire" being almost like a new rock anthem. They way the audience responded was contagious and it's no surprise – I got a reply tweet informing me of the song's use in Grant Park during Obama's election last November, so the song packs an emotional wallop for some of Chicago's citizens. The National is a slow-burn live – opening with some of its slower material and building to the frenzy of "Mr. November." With eight members on stage, the intricacy and deftness of the band is incredible. It takes talent to have that many people on stage and to make it sound as nuanced as they do. They can build a show no doubt. Now, how 'bout "Lit Up" one of these days, fellas? It's obviously one of your best songs. Let's hear it sometime.
Don't forget you can still follow me on Twitter for the rest of the Pitchfork Festival, and   follow the main Aquarium Drunkard Twitter here.
+ Download DRM Free Music via eMusic's 25 free MP3 no risk trial offer
——————————————————————————————————————————