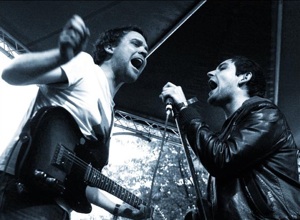 J. Neas here, winding up AD's coverage of the Pitchfork Music Festival in Chicago. I want to start by laying some serious kudos on the festival staff and planners. Not only was it a breath of fresh air commerce and surroundings wise – from the diverse but non-traditional food booths to the exclusive beer sales of just local, excellent micro-brewery Goose Island to the great and interesting companies, non-profits and charities with booths – but also in the responsiveness to festival-goer comments. When complaints mounted about long lines at bathrooms on Saturday, the festival brought in additional facilities for Sunday. The result? I didn't wait longer than five to ten minutes for a toilet on Sunday, where Saturday had been an average of anywhere from fifteen to thirty. Obviously a festival run by people who, as music fans themselves, get what people want from a festival, Pitchfork is a shining example of what can go right in festival planning.
Today was full of tremendous highs and some disappointments as well. It opened with quite possibly my favorite performance of the weekend, Frightened Rabbit. I'm a bit behind on this band, but I do enjoy getting to have one eureka moment at a festival. I knew nothing of this band other than their name going in and was floored from moment one. Every song was a winner and I literally had chills sitting there listening to them. Strains of Scottish jangle pop and even some things resembling American roots-rock strolled through their songs. Thrilling live, even more so in a smaller setting – go see them if you can.

Continue Reading After The Jump…
I don't know whether it was the supposed 'quiet' that seemed to hang over the A stage, but Blitzen Trapper was, amazingly, one of my disappointments for the weekend. For a band with six people on stage, they didn't put out a lot of noise, even though it looked like they were trying to do so. They opened with a tepid and slow version of "Wild Mountain Nation." A serious pet peeve of mine is when bands play songs slower than the album version. If you're changing up the whole structure of the song, that's one thing. But when it's faithful to the recorded version, just slower? Irritating. I'd been looking forward to seeing this band live for over a year now, but found myself walking away after four songs. My theory is that, much like another band I'll discuss later, they just aren't an ideal band for festival settings.
Thank goodness for Pharoahe Monch. Not only did he redeem the lackluster performance by the only other hip-hop act from the weekend, he did it in serious style. With a ton of swagger and some energetic and involved backup singers, he came out and woke up a crowd that hadn't been seriously energized yet in the afternoon. The Thermals followed Monch and they put on a textbook showcase of why guitar/bass/drums rock is far from dead. Not to mention throwing down no fewer than four covers – including opening with a run through of Sonic Youths' "100%." I'm kicking myself for not having gone to see them in a club a few months ago, but they carried those big power-punk hooks over nicely. Also incredibly dynamic were the Walkmen. This was the epic rock of the evening and their sweeping music was a great lift to the early evening.
Today's 'music from another room' moments – bands I caught just a bit of, or even just heard snippets of: The Mae Shi – shifted from shouty, fractured punk I might have cared about when I was 17 to some sort of rap-rock hybrid at the end – not sure what was going on there; Michael Columbia – I don't remember much other than him saying that one of their songs was about a character from stone-cold classic TV film V – points for that alone; M83 – I think I really missed out in not seeing more of their set as it looked like a rave in the early evening and more people dancing than I think I saw the entire weekend – reminds me of how well CSS went over at Monolith last year; Vivian Girls – love the record, but was nonplussed by the live incarnation.
Grizzly Bear took the stage as the evening headliners took off and promptly put me to sleep. Grizzly Bear is undoubtedly a talented band, but they were just not made for festival audiences. I can easily see what they did tonight going over well in a club where the audience a) has the opportunity, potentially, to sit down, easily get a beer, etc. and b) everyone is there, specifically, to see them. But when one slow fuse of a song turned into a second and a third, I gave up and moved over to try and get a place for the Flaming Lips. I could still hear the band, so got to hear the 'hits' — "Knife" and "Two Weeks," but by that point they had lost me.
Here's where things got weird. While I was still watching Grizzly Bear, setup had begun on the other stage for the Flaming Lips' elaborate set pieces. But it wasn't just the crew. All the members of the band, including Wayne Coyne, were out on the stage doing various things. Confetti was fired off, by Wayne and by technicians, and the audience was goaded by band members into cheering and responding. All of this happening during Grizzly Bear's set seemed more than a little disrespectful.
Next, while talking a bunch of gibberish about "giving the audience what they want every night," it's obvious that the Flaming Lips completely ignored the Write the Night theme of the their show. A look at the set list from tonight's show matches up incredibly with every other show the band has put on for the last couple of years. The exceptions were a couple of new songs (both pretty good) and a less-than-awesome run through of Clouds Taste Metallic's "Bad Days." In a Priest Driven Ambulance's "Mountain Side" was played, but has been a staple of their live set for some time; as has their biggest hit of all time, "She Don't Use Jelly." For audience members hoping the voting would help them hear some Lips songs they might not hear otherwise (me, for instance), this was a terribly disappointing turn of events. I was also disheartened to have Wayne announce they were going to play "Fight Test," only to have the song's humongous, towering drums completely eliminated in favor of an almost a capella rendition with light guitar backing. A similar reconditioning was used on "Yoshimi Battles the Pink Robots, Pt. 1." All the confetti, balloons and dancing furries on stage couldn't salvage the show for me.
I will say this, though – while I was busy being a curmudgeon, thousands of people around me were having a ball, and ultimately that is more the measure of the success of this show than anything. The Flaming Lipss are nothing if they aren't showmen and they put on a rock show to rival just about anyone. My biases extend to the fact that, to me, the band hit its creative peak a decade ago and have been coming down since – not necessarily a valid way to judge a live show, but something I can't help but let affect my vision of the show. The smiling faces of all the people around me, oblivious to my nit picking, are all the affirmation the band needs, no doubt.   words/ j neas

+ Download DRM Free Music via eMusic's 25 free MP3 no risk trial offer
——————————————————————————————————————————