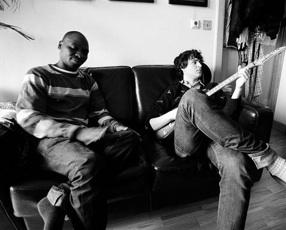 The Summer jams continue.   Yeah, the season's heat can be oppressive, and by September you are pretty much over it, but as far as seasons go there is little argument that summertime is the most footloose of the the four.   Beach days, bocce ball, cookouts, rooftop parties, road trips, friends with pools and ice-chests filled with beer – all topped off with cold margaritas and music.   I've rapped about seasonal/situational listening patterns multiple times, and Summer, without a doubt, owns them all.
If you've pulled a Rip Van Winkle, and haven't been nerding around the Internet the past few years, the emergence of projects like Fool's Gold, El Guincho, VW, Ruby Suns and The Very Best might seem like the indie rock collective consciousness went global.   Well, in a way, it has.   Trendy?   Sure.   Fun. Indeed.   When the dust settles, and the major labels, attorneys, and music media finally quit discussing the effect the Internet has had on 'the decline of the music industry' its legacy will be that of exposing an entire generation of musicians to both foreign cultures and their indigenous sounds — a feat that would have been far more challenging just a decade ago.   These new artists don't so much sound like latter-era Talking Heads as they do the records David Byrne was most likely digging himself in 1980.   Due to the proliferation of the Internet over the past ten years, theoretically (and put into practice) a music savvy 17 year old can be just as absorbed in the sounds of Soukous, Highlife and Tropicalia as they are in Western 'indie' rock. If anything, let this be the death knell for the term World Music, bastardized descriptor and all.
Esau Mwamwaya's The Very Best have been receiving a lot of due praise of late, in part thanks to the guest vocals of VW's Ezra Koenig on the track "Warm Heart of Africa."   Musical tunnel-vision has always been a drag, let the fusion continue.   Stay tuned for the release of The Very Best's debut LP this Fall.
Download:
MP3: The Very Best :: Warm Heart of Africa
————–

+ Download DRM free music via eMusic's 25 free MP3 no risk trial offer
——————————————————————————————————————————