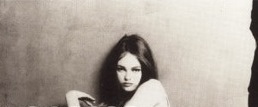 Speaking of modern takes on sixties girl-groups, back in the early '90s long before her relationship with Johnny Depp, French actress/model/pop star Vanessa Paradis recorded her self-titled, English language, debut.
Helming the production, instrumentation and songwriting was her, then, beau Lenny Kravitz who, long known for his fascination with all things retro, created the perfect vintage palette for Paradis' coy, come hither vocals. Taken for what it is, an unabashed pop album with one foot in the past, almost everything here works; much in the same way as that of Kravitz' own early success.   Sure, you know he's ripping everyone off, but he's ripping off the greats, wears his influences on his sleeve and clearly has a great ear. In short, for this project, he was no doubt the perfect man for the job.
Until just recently I had not heard this LP in years. Years.   In high school I owned a dubbed cassette version that a girlfriend made me, which I listened to until it wore out and promptly forgot about.   I probably did not think about it again until the first time I heard Serge Gainsbourg, whose oeuvre is paid homage to on the Paradis instrumental track "Paradis."   From the track's atmosphere to the barely audible breathy sweet nothings, all sung in French, the soundscape is pure Serge.   After making the connection I very much wanted to listen the Paradis album again — both as a fan and, more so, to satisfy my curiosity as I   was interested in deconstructing its influences in a way I could not at 17 (I remember doing the same thing with Paul's Boutique sometime after college).   As the LP was long out-of-print, thus began a used-bin search that lasted close to ten years.   A casual search mind you, but one that endured just the same.   I never found it, but thanks to the growing throngs of digital distributors it is once again available for purchase.
So how did it sound?   I will liken it to this: You know those times you've rented a movie you that loved as a kid, and it turned out to be utter shit?   (I'm looking at you, Red Dawn) Well this is the complete opposite.   As suspected, the album is rife with knock-offs of sixties sounds and style, all immaculately executed, referencing everything from Phil Spector, Motown, the Shangri-Las, the Supremes, Dusty In Memphis, to the Velvet Underground (whose "Waiting For The Man" is covered here.)   A quick Google search informs that this album did not make much of a commercial splash, but listening to it now, with fresh ears, I think it just may be about time for a reappraisal.
Download:
MP3: Vanessa Paradis :: Be My Baby
MP3: Vanessa Paradis :: Paradis
————-
Purchase: Vanessa Paradis- S/T
+ Download DRM free digital music via eMusic's no risk 25 Free MP3 trial offer.
—————————————————————————————————————————–