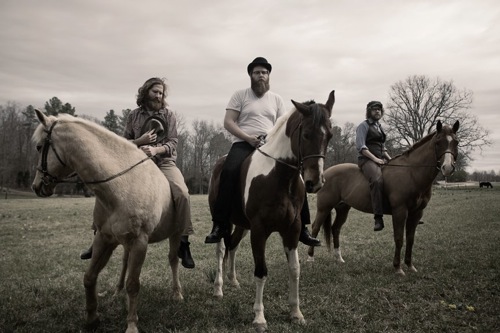 (Diversions, a recurring feature on Aquarium Drunkard, catches up with our favorite artists as they wax on subjects other than recording and performing.)
Megafaun released their sophomore LP, Gather, Form & Fly,   this week on the rising Home Tapes label.   I've gushed about this band numerous times on AD in the past, and their performance at our SXSW party was a personal highlight. Today's Diversion finds Megafaun's Bradley Cook waxing about his adopted NBA team, the Lakers — an account that would make Fletch proud.
+ + + + + + + + + + + + + + + + + + + + + + + + + + + + + + + + + + + + + + + + + + + + + + + +
The Lost Angeles Lakers:
I don't have health insurance, but I have the NBA League Pass that you can purchase through Time Warner Cable. This allows me access to EVERY SINGLE game played in the NBA throughout the course of the regulation season and the first round of the playoffs. I say this sans intention of showing off or looking cool, but to demonstrate how severe my love is for the Los Angeles Lakers. It all began with the chicken pox.
My Uncle Steve is an emergency room physician. He spent the better part of the Seventies doing his medical residency out in Los Angeles. Amidst a books worth of fascinating and humorous situations he found himself in with patients (i.e. a member of the Hells Angels confiding in him the whereabouts of a dead body), he developed a love of Lakers basketball. By the early Eighties, he had found himself back in Wisconsin working overnights in the local ER in Chippewa Falls, Wisconsin. He lived a block away from my parents and on days I was home sick from elementary school, my parents would leave me with him so they wouldn't have to take a sick day at work. He would insist on watching games that he had taped on VHS during his previous nights shift. It was before the immediacy of the information age so he could watch his games on delay with the same anticipation and emotion as though it were real time, not to mention the bonus of fast-forwarding through commercials showcasing wood-paneled mini-vans and families reconnecting at the holidays over a nice cup of Foldgers. He introduced me to Kareem Abdul-Jabbar's skyhook, James Worthy's explosive first step and mostly about Magic Johnson's unparalleled understanding of the game. Magic was a six foot ten point guard with the ability to direct the greatest fast break line-up in the history of the game. Most power forwards playing the game today have less height than Magic and he was calling the shots for the greatest show on earth. They were so exciting in fact that they earned Pat Riley's squad the nickname, "Showtime." It was easy to understand the beauty of the game through Uncle Steve's enthusiasm and the Lakers exciting brand of basketball. I was seven when this all came into my world. Twenty one years later and I have a house littered with all kinds of treasures colored in purple and gold, not to mention a DVR recorder maxed out with various games throughout the season that I can watch when late August rolls around and I miss my guys.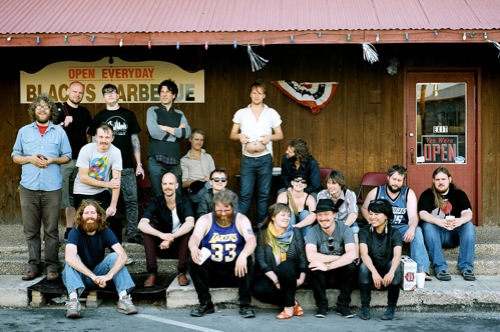 Basketball has become vital part of my life. I spend a majority of the year on tour, recording and generally engaged with some aspect of music. I love music to death and for the most part, it is what ultimately defines me. However, I have come to terms with the fact that I rely on the balance of hoops to exist and stay healthy. I have always heard too much of something is a bad thing and I agree. I look forward to being home from the road because I actually get to play ball three times a week with a bunch of guys. We have been playing together out in Raleigh for years. Coincidentally, it is a group that centers around members of the Rosebuds, Polvo, Birds of Avalon, The Bowerbirds, Bon Iver, Hammer No More the Fingers and Akron/Family. When it comes to this particular balance, I realize that I am not alone. Sure, we have non—musicians, but we have an abnormal amount for a series of weekly pickup games. I love that I know who is on tour based on the attendance from day to day. As far as I can tell, no one has ever missed a run unless they were recording or touring! Sometimes some of the guys come on by my house afterward to watch regular season play. We all talk shit and compare today's athletes with the ones we grew up watching. (e.g. I still think Kobe Bryant is a better player than Jordan. Jordan was more transcendent, but KB24 is number one in my book). Every once in a while, Ivan from the Rosebuds brings up some great story about how he guarded Allen Iverson in High School or played on the same traveling squad as Jerry Stackhouse. Ivan is my favorite player that doesn't play pro. He has taught me a lot about the mechanics of the game. I could rattle of stats and name drop obscure players all day long or talk about off-season acquisitions made specifically to dethrone the champs, but I will spare you the blatant nerdery.
When Kobe and the rest of the 2008-2009 Lakers won the title this June, I found myself engaged with more people than normal about my feelings toward this team. On one occasion I found myself on tour in Michigan, sitting in a hotel room in tears of pride, showing a friend Youtube videos of Kobe Bryant Highlights and the current crop of "Where Amazing Happens" NBA commercials that featured great moments in Lakers history. One month later, I was on tour with the Bowerbirds in Europe during a chunk of the NBA postseason. I set an alarm for 4AM in Spain during our weekend at the Primavera Festival and watched the Lakers clinch the Western Conference in a commanding game six over Denver through the vehicle of a shitty Internet live stream. My passion was enough to entice Phil Moore to stay up all night in Prague and watch game two against the Orlando Magic in the finals. Luckily the tour ended and I was home for games four and five and was able to watch them come home with the title in the comforts of my Purple and Gold haven. It was perfect. I sat on my sofa with my girlfriend and my best friend and got misty eyed when the clock expired. I am already looking forward to a repeat. If you ever see me at a show and want to talk about hoops, I urge you to. Just know that I have been accused of being a touch biased.   words/ bradley cook
Download:
MP3: Megafaun :: The Fade
MP3: Megafaun :: Kaufman's Ballad
————–
Purchase: Megafaun – Gather, Form & Fly
+ Download Megafaun via eMusic's 25 free MP3 no risk trial offer
——————————————————————————————————————————