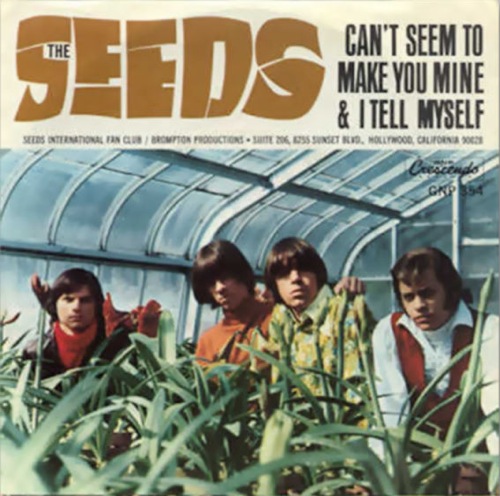 Hey Los Angeles, heads up: this Friday, July 24th, there is a Sky Saxon Tribute being held at the at the Echoplex in Echo Park.   The Seeds leader died Thursday, June 25th, in an Austin, TX hospital at the age of 71 — the cause of death is at present unknown.
The seminal garage rock pioneers had their first local hit here in their native L.A. with "Can't Seem To Make You Mine," and shortly thereafter gained national attention when "Pushin' Too Hard" which landed them in the Top 40 in 1966.   Brute and primal, the Seeds laid the groundwork for both the nascent psychedelic movement and the punk rock scene that would take hold a decade later.
The Ramones, Johnny Thunders, Alex Chilton and Yo La Tengo have all covered "Can't Seem To Make You Mine." Yo La Tengo's rendering (mp3 below) can be found on the Camp Yo La Tengo EP (it is presently not available on any of the sanctioned YLT rarity/b-sides compilations).
Download:
MP3: The Seeds :: Can't Seem To Make You Mine
MP3: The Seeds :: Pushin' Too Hard
—-
MP3: Yo La Tengo :: Can't Seem To Make You Mine (cover)
—————-
+ + + + + + + + + + + + + + + + + + + + + + + + + + + + + + + + + + + + + + + + + + + + + +
The Seeds :: Pushin' Too Hard – 1967, Shebang Show
+ Download The Seeds via eMusic's 25 free MP3 no risk trial offer
——————————————————————————————————————————